Over past few years we have supported the Summer and Christmas fairs at Farnborough Road School, giving a top draw prize of a Southport family portrait including Large Canvas worth £400. It's important for local businesses to support each other, and being given the chance to support a local school was a privilege. The money raised goes straight back into the 2 schools at Farnborough Road and children have a lovely day attending. The last Summer Fair raised a fabulous £4185 for the schools.

With my Southport Photography Studio is just around the corner from the school, it's ideal for me to support the Fairs. To have the opportunity support the local community and having Max and his friends attend the school I am always happy to give something back.

I wouldn't normally provide free shoots to anyone running a Fair but when the benefits go back into the schooling system then the answer will alway be yes. Farnborough school is a very reputable one with some fantastic Visions and Values, with Ofsted Outstanding Awards for 2009 and 2010.

The Staff and Governing Body in partnership with the parents aim to:
· Provide a happy, healthy environment where everyone feels cared for and secure.
· Adopt a creative approach to a broad and balanced curriculum, in a stimulating environment.
· Encourage self-respect, self-motivation, independence and responsibility.
· Foster a sense of fairness, honesty and co-operation.
· Promote positive attitudes and behaviour with respect for others and the environment.
· Celebrate achievements within the school and the community.
· Ensure the smooth transition of pupils as they progress through our school and beyond.

I was honoured to have my prize featured on the top of the Fair Ticket, I beat Mercedes!! I was a little smug about that!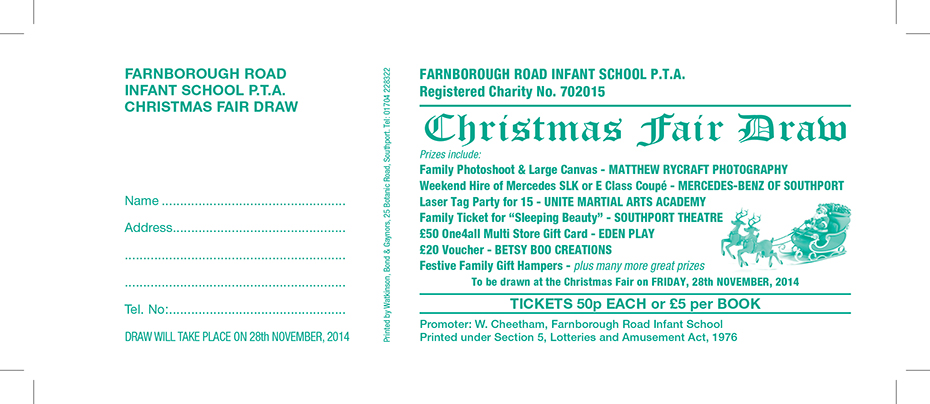 Farnborough Road Infant School held their Fair on Friday 28th December and the lucky winners will have a 1hour family fun filled shoot and receive a large canvas of their chosen photo to cherish.