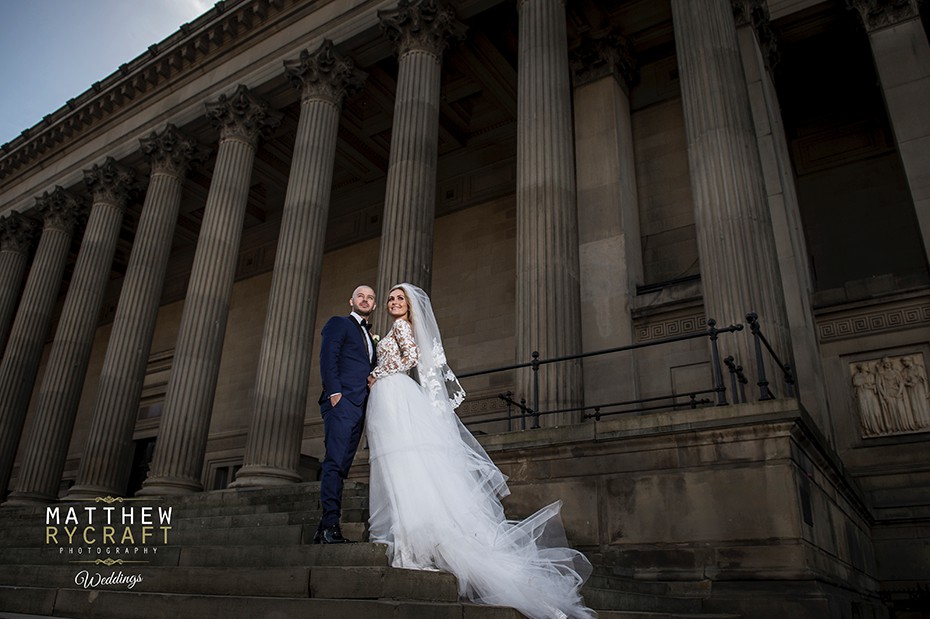 Anthony said, "I was very nervous I just wanted everything to go according to plan and felt so nervous. A special moment for me was when all my brothers got together in my dads house all dressed in our tuxes and we had a whiskey. And the drive to the church in our car with my best man and usher, was a memorable moment too."
Kristina, " I was really calm when I woke up and it didn't feel like it was the wedding day it felt like a trial run but then when all my bridesmaids turned up with there hair and makeup done by the lovely Hayley & Leah, it started to feel real and I felt a bit overwhelmed but so excited."
"A special part of the morning, was when I was getting photographs by Matt in the garden with my mum and dad and my bridesmaids, with the sun shining on us! "
"Also when my bridesmaids surprised me with a beautiful Thomas Sabo love ridge bracelet with our wedding date engraved on it, it was a very special moment!!! I love it and never want to take it off ".
A Wedding Dress by Zuhair Murad

Kristina's wedding dress was designed by one of her favourite designers… Zuhair Murad from the Wedding Club in London, who has dressed celebrities for red carpet events, and her gorgeous Wedding Veil from Brides of Liverpool.

Anthony wore a Navy Dinner Suit with a shawl collar and tailor-made by Phil Hunt at Noble Fox, whilst the best man and groomsmen wore black Tuxedo's.

Hair and Make-Up

Lilly Kelly was Kristina's lovely make-up artist and Lyndsay Camello, styled her Bridal hair for the day. Whilst Sam from Polly and Sam Make-Up helped with the Bridesmaids make-up and Little Hair Room styled their hair. Each Bridesmaid had a different hair style, they all looked amazing and they put little roses and gypsy grass in too which looked perfect.

The Wedding Flowers

Kristina said, "We actually used 2 florists one for mine and my bridesmaids bouquet and the altar pedestals at the church who was Lisa at Bouquet Boutique, (I especially loved our altar pedestals which looked so gorgeous in the church) and another for the centrepieces, top table and button holes by Michelle from the Dutch flower shop in Woolton. We had pink and lilac hydrangeas and ivory roses with foliage."

Wedding Cars

They had two suppliers for their wedding cars also! They used Jim from Classic Wedding Cars in Preston, who had an Ivory Silver Cloud 3 1964 Rolls Royce for Kristina and Anthony's car and then they had a Navy and Ivory Vintage car and an Ivory vintage minibus for her Mum, Anthonys Mum, Aunties and Bridesmaids, which were from Love and Carriage.

They also had a big red double decker, from Wedding Buses, to get their guests from the church to the venue. A lot of them commented on how much fun they had on the bus drinking coronas and champagne which Kristina and Anthony supplied for the journey and they were all singing on the way to the venue.

Wedding Cake, Stationary and Favors

Their Wedding Cake was Ivory with lace detailing, 5 tiers made by the lovely Elizabeth Harris. It was delicious. The top table was dressed with flowers and tea light candles and a photograph of Kristina' Grandma and Nan infront of her. On the guest tables they had 6 candelabras supplied by Tamaryns Treasures, who also did our table plan and dressed the Church pews with lace bows and roses. They had a New York theme as Anthony proposed on the Brooklyn bridge, so they wanted to include it in the day. Naming each table after a different landmark of New York and had pictures of the places on the tables.

For their favours they had personalised Polaroid cupcakes made by Cakes by Andrew. Each one had a photo of the guest on and their name. Kristina said, "It took a long time to get all the photos of all 127 guests but it was worth it in the end as everyone loved them and commented on them throughout the day and night! "

Paper Doll designed their invitations, keeping with the New York Theme, they had a sketch of their engagement in New York.

"Our toastmaster was amazing and helped the day run really smoothly. I don't know what we would of done without him. We also hired him for the church so he could organise the wedding party and help Anthony with some of his nerves! I would recommend Merseyside Toastmaster for any wedding."

Evening celebrations

During the evening celebrations, their 7 piece Band and DJ, Manytones were amazing. Kristina and Anthony's first dance was to Lionel Ritchie, 'Stuck On you' as an intro and then the song went into 'You got the Love' anthem, which had everyone join in.

Memorable Moments

Kristina: "My most memorable part of the day is very hard to choose as there was so many moments that were special and memorable but if I had to choose it would be standing at the altar saying our vows to one another. It felt so special and overwhelming as we had been planning and imagining that moment for so long."

Anthony: 'My most memorable moment would be seeing Kristina and her dad walking down the aisle and seeing her in her wedding dress for the first time'

A really special moment for Kristina was when Elvis – 'Can't help falling in love with you', played at the church when they were signing the register. "We both really love the song and lyrics but it was also a tribute to my beautiful grandma who loved elvis and it was a very special moment for me and my family who love her and miss her very much. I felt it was a way for me to include her in our special day and it is a moment I won't forget. "

Why they chose me as their Wedding Photographer

'We loved having the two Matts as our photographer and videographer on the day! They turned up so early and worked so hard all day.

Matt was the ultimate professional and we both felt confident that he was the best possible man to capture our day! I was a bit worried before the wedding as I had heard stories about photographers taking you away for photo shoots and couples telling us they felt like they missed out on their day because of this but it didn't feel like that at all with Matt.

He took us by St George's hall and it was actually one of my favourite parts of the day because I got to watch Anthony on the steps, looking like he had just stepped off the front cover of a magazine! And Matt even ran ahead of us to set up, so we could have moments to ourselves, which I will remember them moments forever!!! He was so fast at getting the shots he wanted and gave us great direction."