Grosvenor Pulford Hotel
Only 5 minutes drive away from Chester and near the border of Wales. The Grosvenor Pulford Hotel is situated with its own landscaped gardens. Now privately owned by the Nelson family since 1994, whilst the building dates back to 1897. The Nelson family have developed and transformed the hotel to what it is today. The Grosvenor Pulford offers many of it's amazing settings and locations for your wedding day photographs. With their Chinese gardens by the Luxury Spa, to the wooden bridge over their own lake. The perfect Cheshire countryside backdrop, you can also opt for photos to be taken in a thatched gazebo or even the wonderful Asian Sensory Garden. The choices are endless.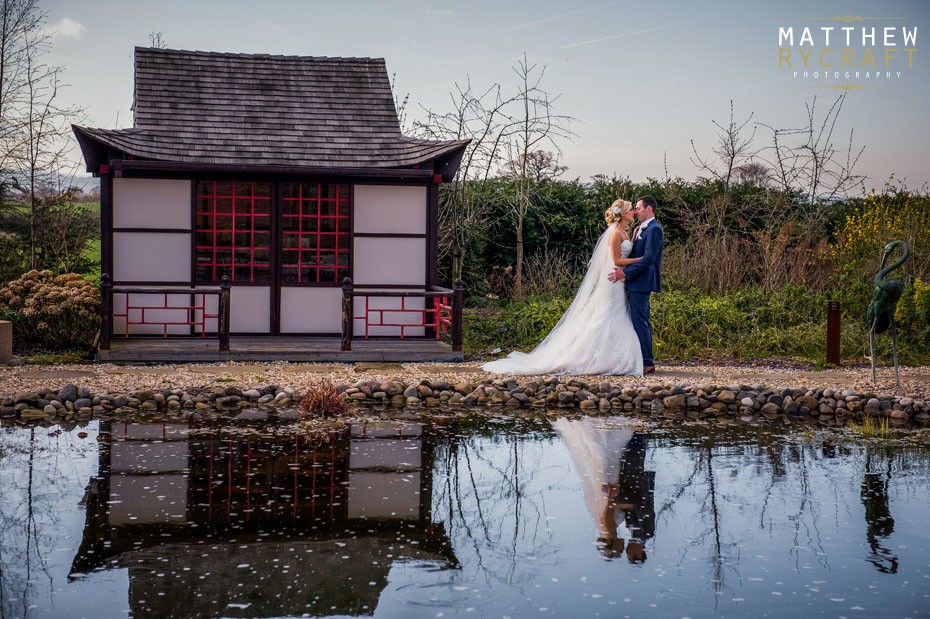 On a summers day you get to enjoy the scenery with drinks served by the lake after your ceremony. Their rather large room which becomes yours for the day, after the ceremony. Later on the room becomes your wedding breakfast and evening reception room. I've photographed here many times over the years, so enjoy one of my latest weddings below. If your looking for a photographer to cover your wedding, or photography pricing at the Grosvenor Pulford Hotel & Spa, please get in touch.
You'll find a full gallery and real wedding photographs taken by award winning wedding photographer, Matthew Rycraft. Get in touch to book your Grosvenor Hotel Pulford Wedding or contact 01244 570560