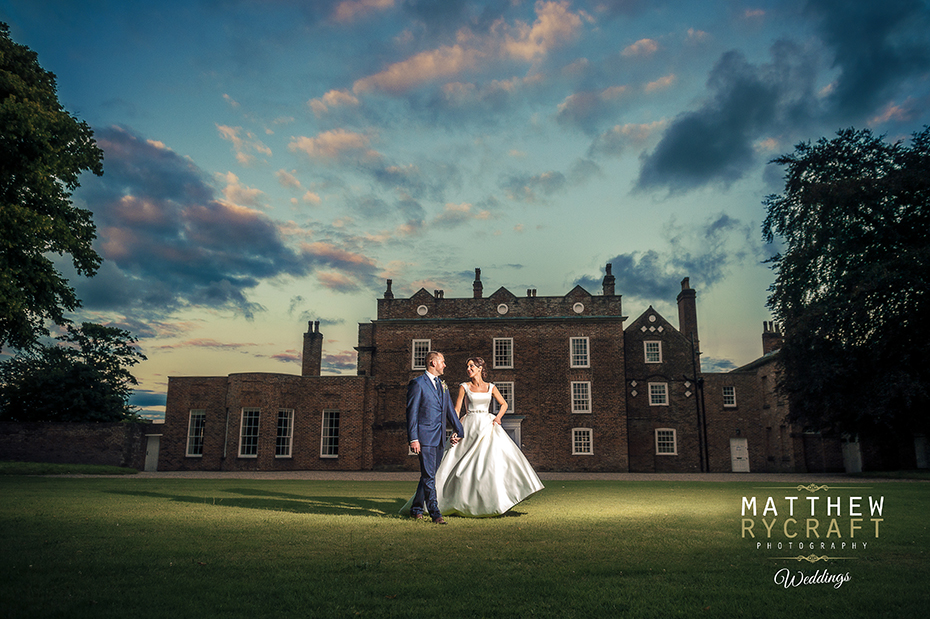 A Summer Wedding at the beautiful Meols Hall, Southport.

Meols Hall is a 400 year old Tithebarn and Lancashire's oldest settlement. Jo and Robin held their Summers day wedding at this stunning manor house in July. I have chosen a quick selection of their Meols Hall Wedding Photographs from their wedding day.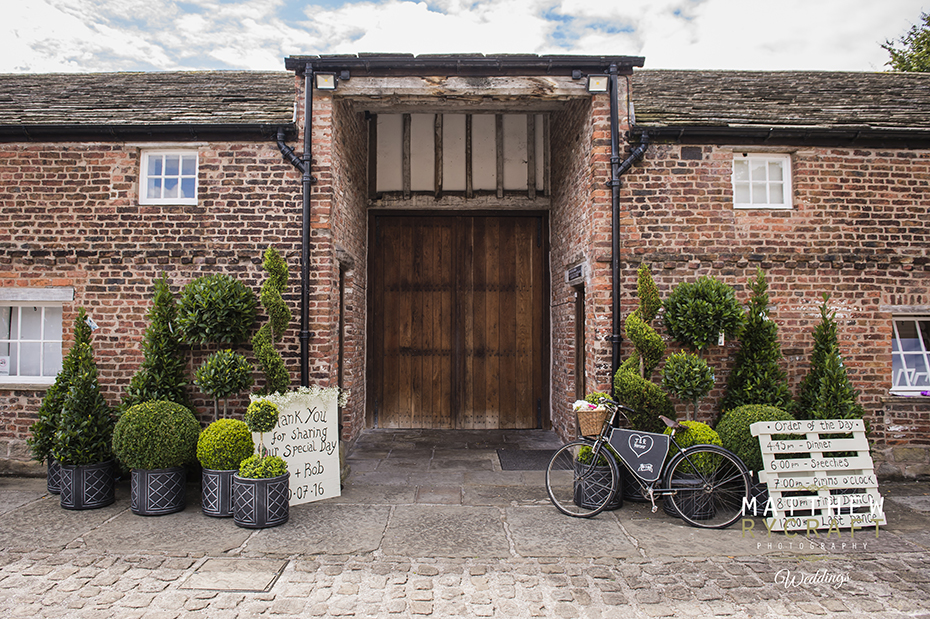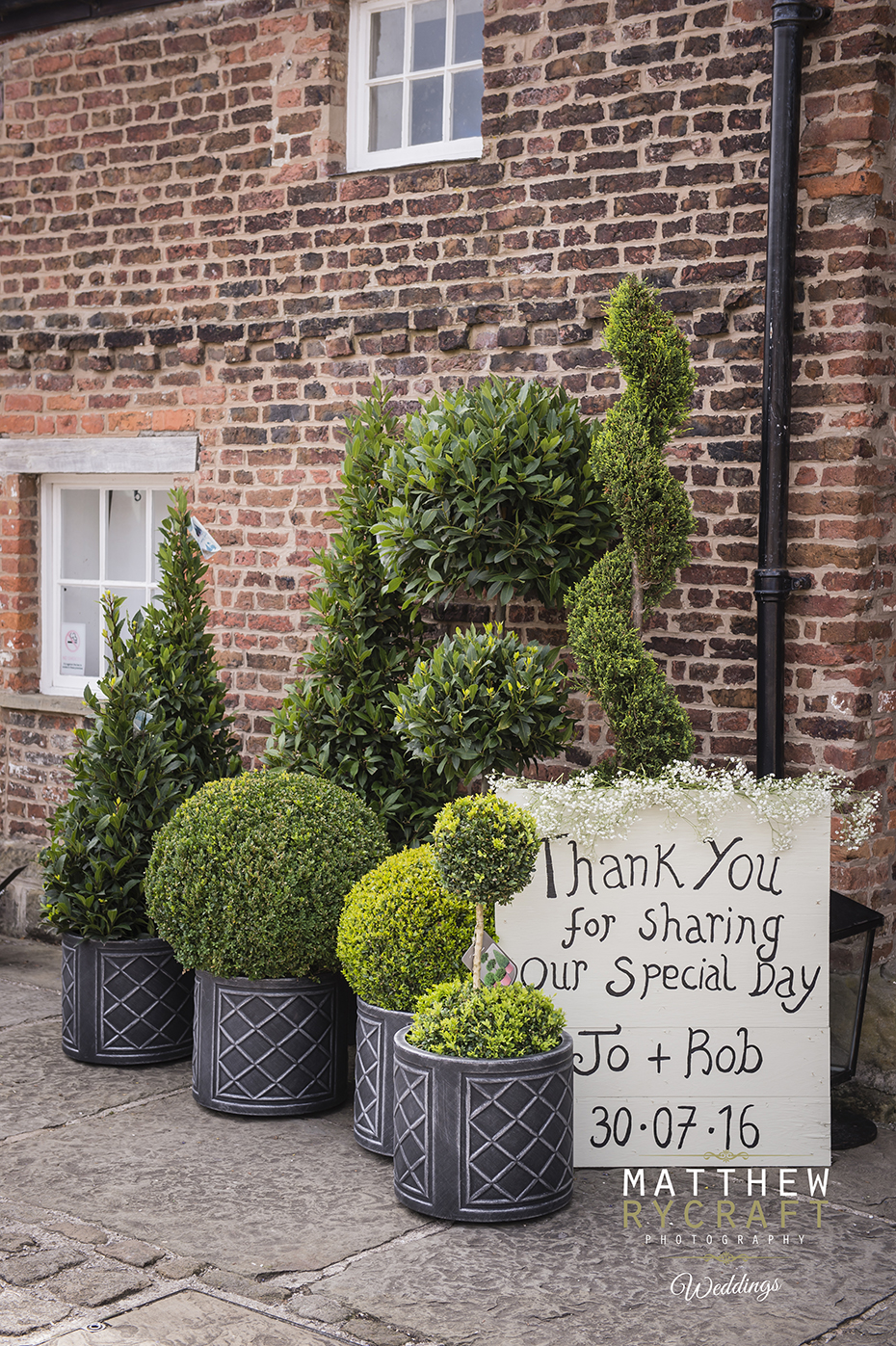 The Morning Preparations

Jo, along with her 6 bridesmaids, started their celebrations getting pampered at Spa92, where they had their hair styled. Bubbles were flowing and enjoyed the morning getting ready for her big day. She felt only a few nerves setting in as the cars arrived at home. However, once Jo was ready, looking beautiful in her wedding dress, she couldn't wait to get the started with their day. "I was so excited to see how months of planning would all come together on the day".

Robin, despite waking up at 5am, felt surprisingly relaxed and enjoyed getting ready throughout the course of the morning. "I somehow managed to maintain my calm right up until Jo arrived at church". His family and close friends were with him and as soon as the Ushers arrived, they were soon given their list of tasks for the day.

Jo wore a stunning Ivory wedding dress and veil from La Sposa and Boutique Brides of Crosby. Her 6 Bridesmaids wore mint knee length dresses from David's Bridal. Robin, wore a tailored 3-price suit from Moss Bros

The Flower Farm arranged their wedding flowers beautifully. Using blush and cream Roses, Hydrangeas and dusty miller, wrapped in white and silvery foliage, tied together with gold ribbons. The Flower Farm also arranged their centre pieces and favours with personalised sparklers and match boxes.

Getting to the church on time, with her Grandad by her side, Jo arrived in style in a 1960's Morris Minor from Lea Wedding Cars. It was one of the highlights of the day and everyones favourite when they cheered on the happy couple as they left as husband and wife.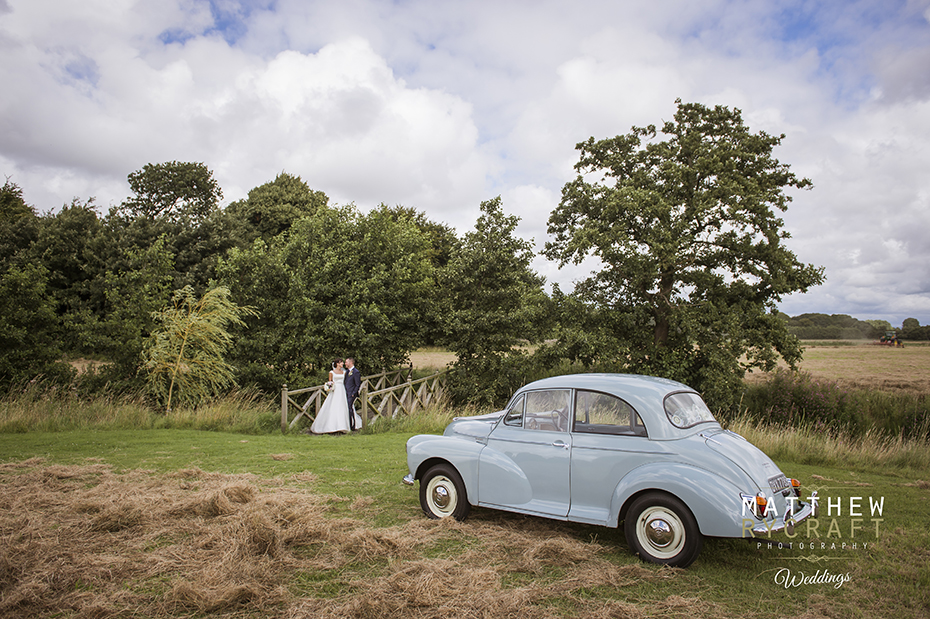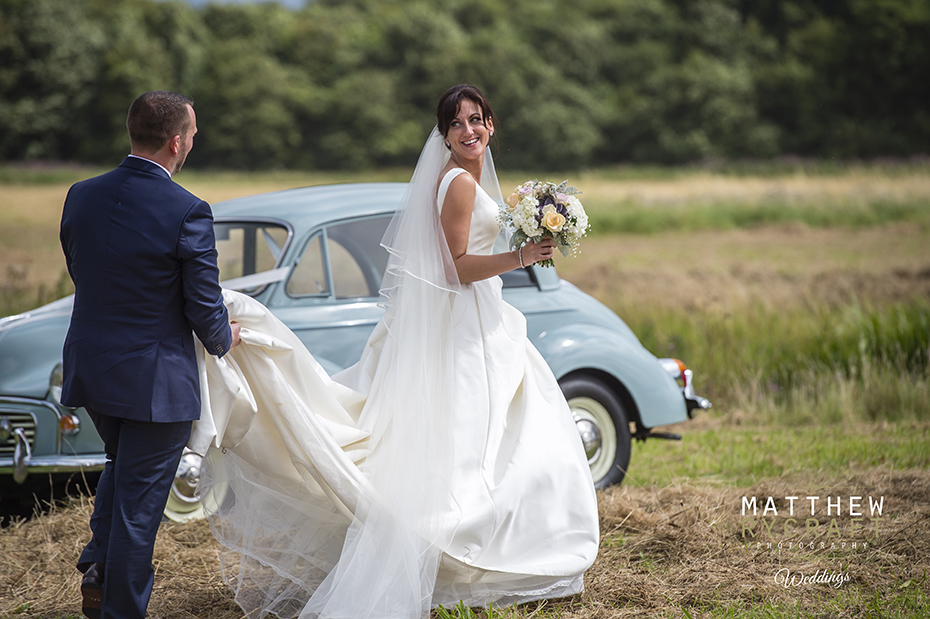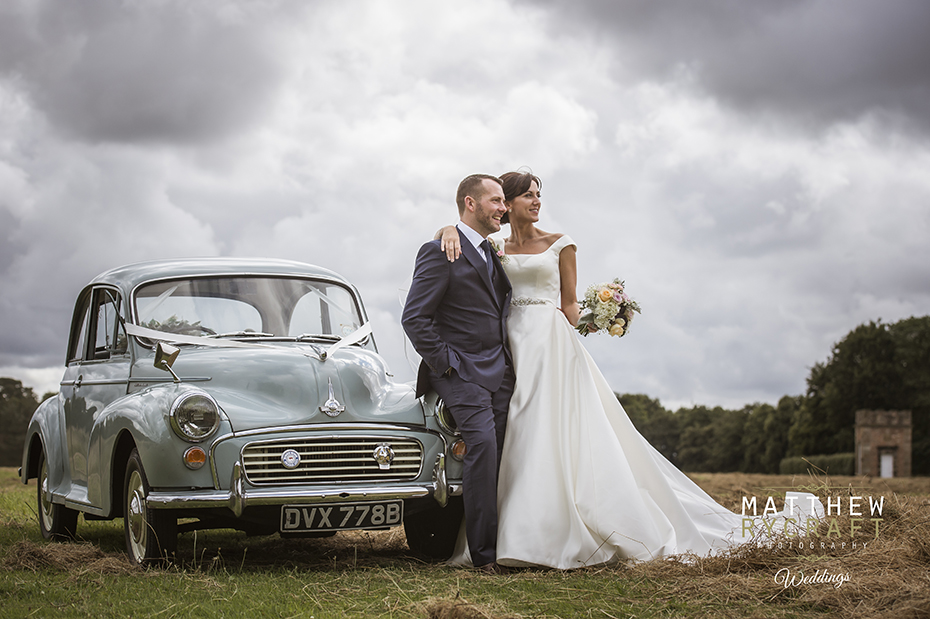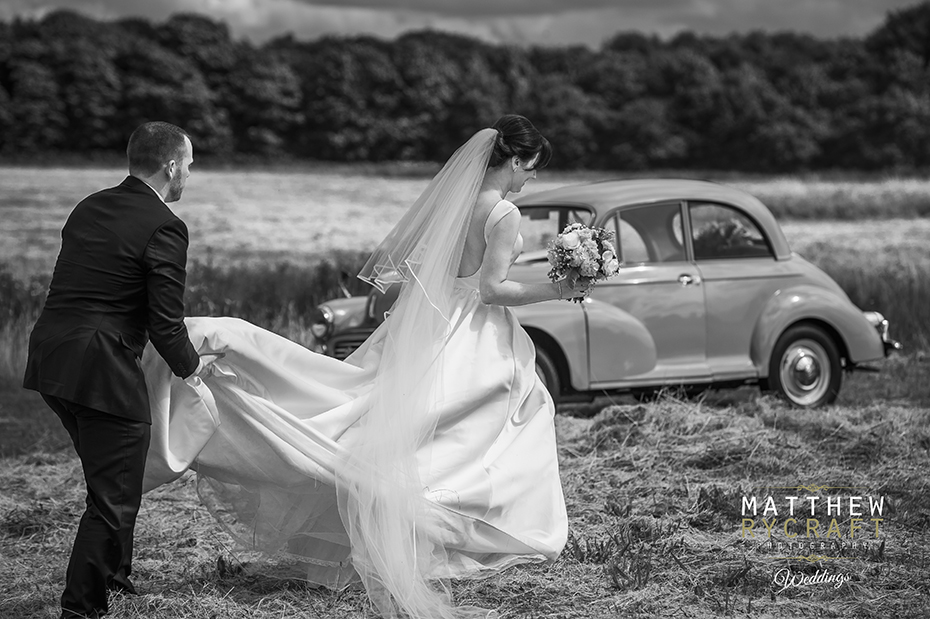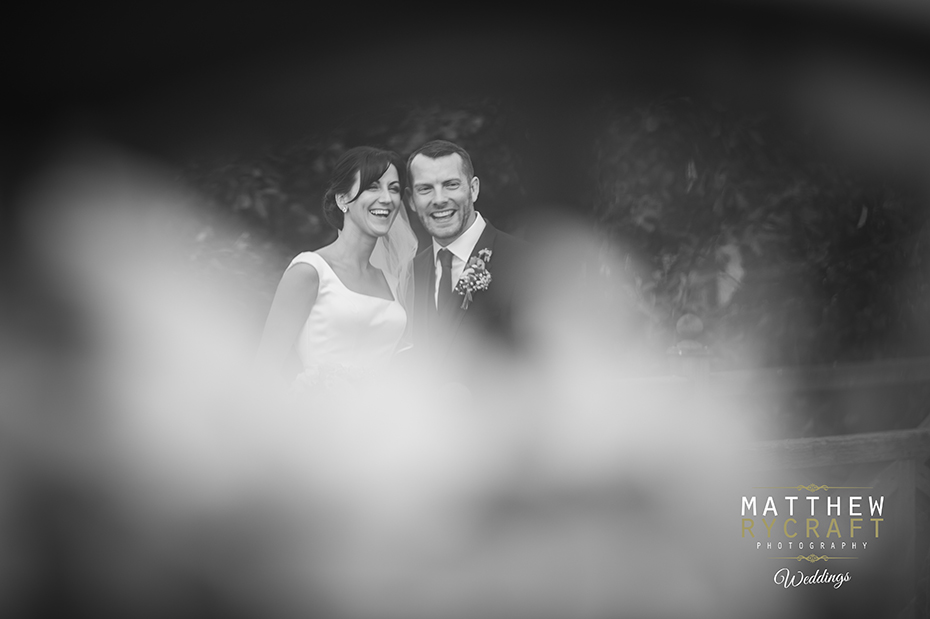 Special Moments of their Day

I asked the newly wedded couplw which moments of their day stood out. They replied.. 'there were so many'. Jo's moment was walking down the stairs in her dress and being greeted by her Grandad, who gave her away. "It was such a special moment as it meant so much to me that he gave me away."

Robin said, "Undoubtedly when I first saw Jo in her beautiful dress – what a stunner! Other than that it would be arriving for our wedding breakfast at Meols Hall in our amazing Morris Minor!"

"Walking down the aisle and meeting each other and saying our vows was the most emotional part of the day, but we both loved arriving at Meols Hall in the Morris Minor with the tin cans on the back of the car with the horn beeping, all of our friends and family cheered us on!"

Jo mentioned, It was nearly 60 years to the day that Jo's Granddad (Bob) walked down the very same aisle with his bride (Glenys). There wasn't a dry eye in the house, as it was such an emotional moment for all.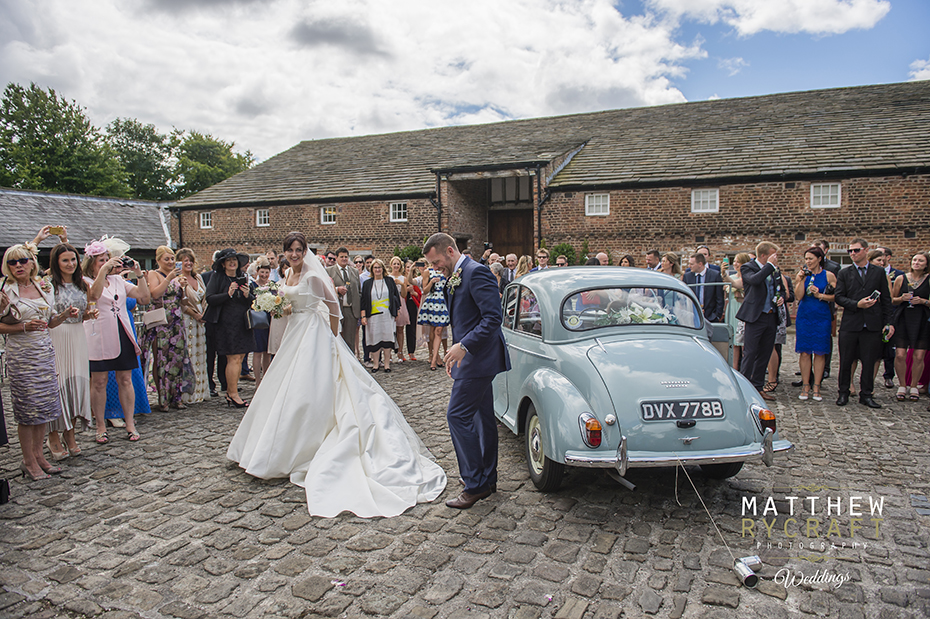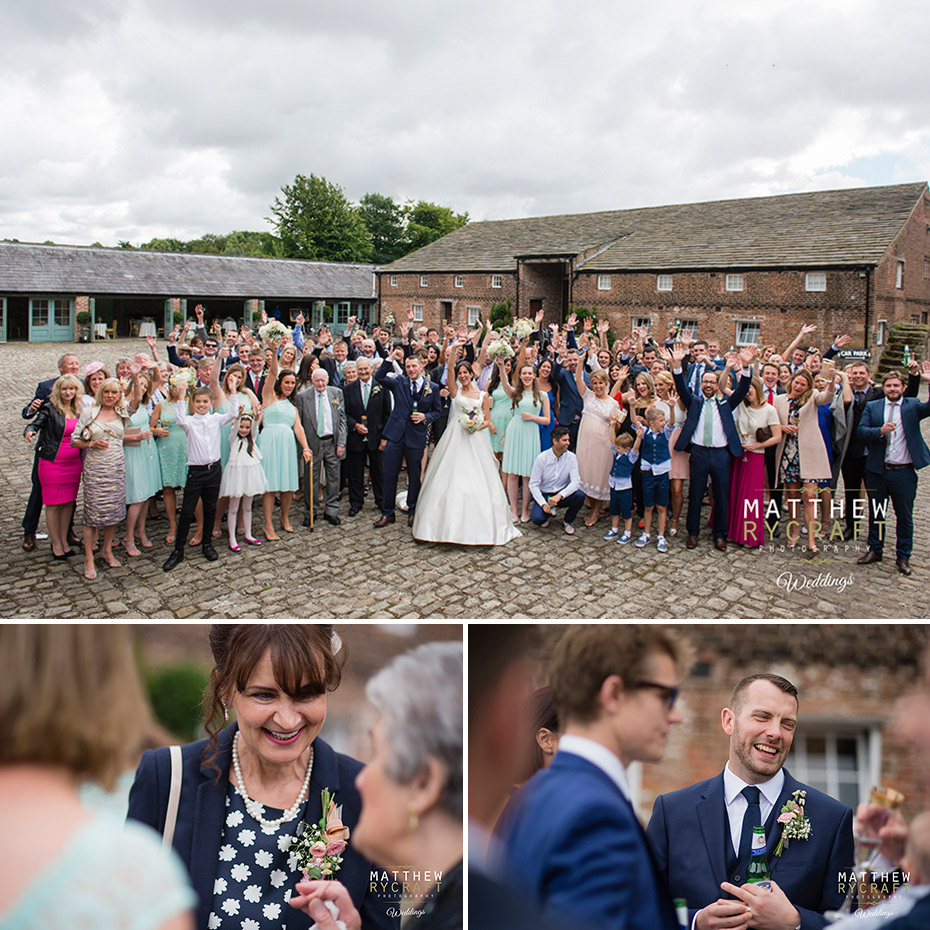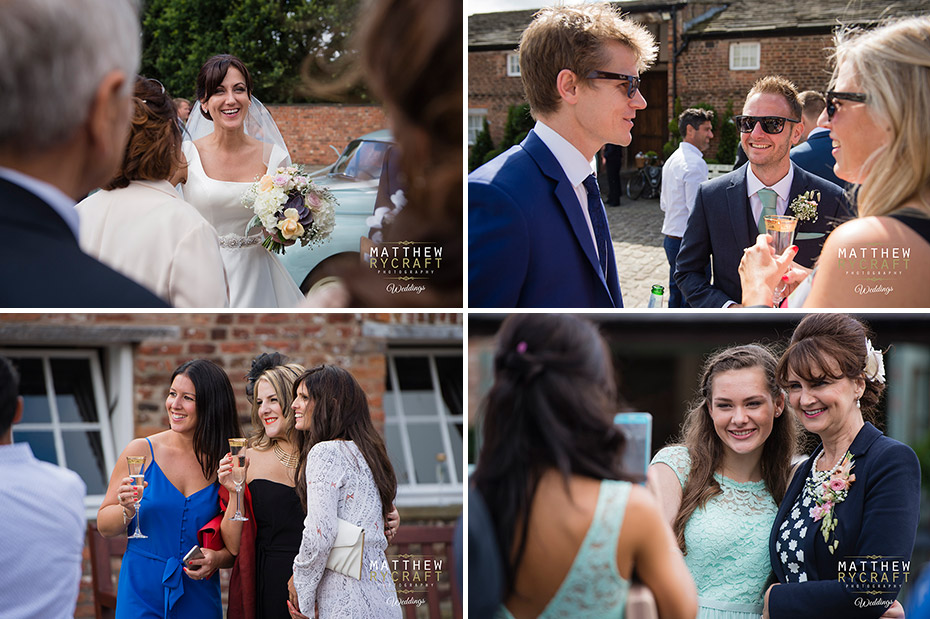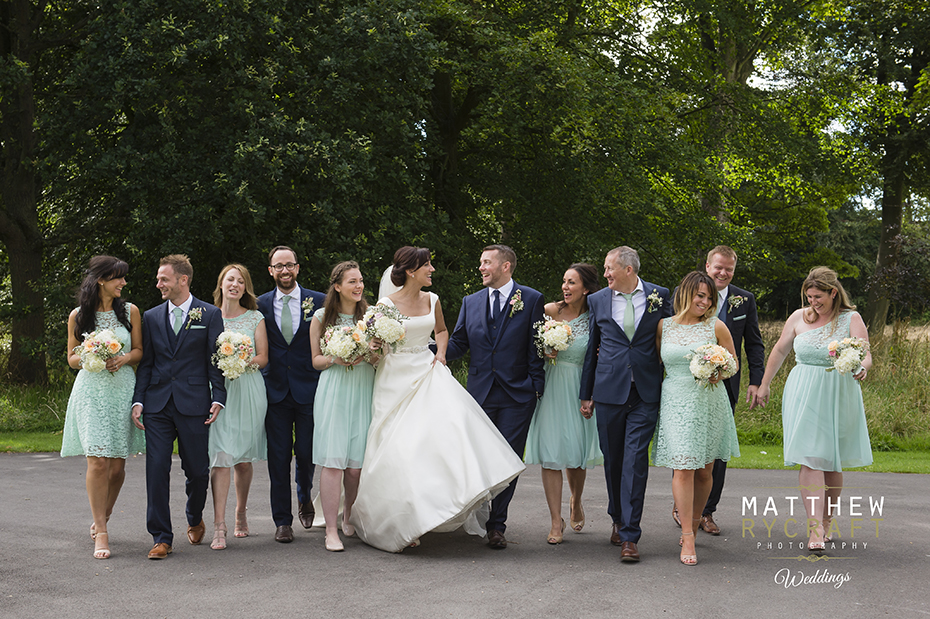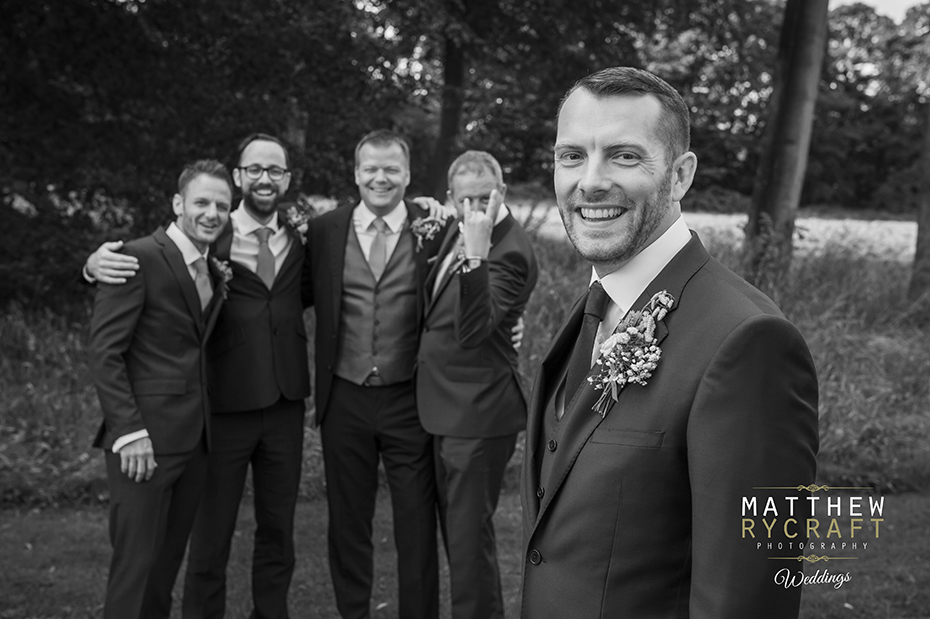 In their own words, I asked them why they chose Meols Hall for their Wedding venue…

"The venue looked stunning. There was lots of space and places to take special photographs. The courtyard was also a great bonus on a sunny day.

The team at Meols hall were absolutely amazing. They were incredibly well-organised, very professional and nothing was too much trouble. They helped keep us on-track during the day with our timings and everything went really smoothly.

The same can be said for Carringtons. The idea to serve a selection of large pies on each of the tables went down a storm and we had so many comments about how much everyone enjoyed it. They certainly kept the wine flowing too!"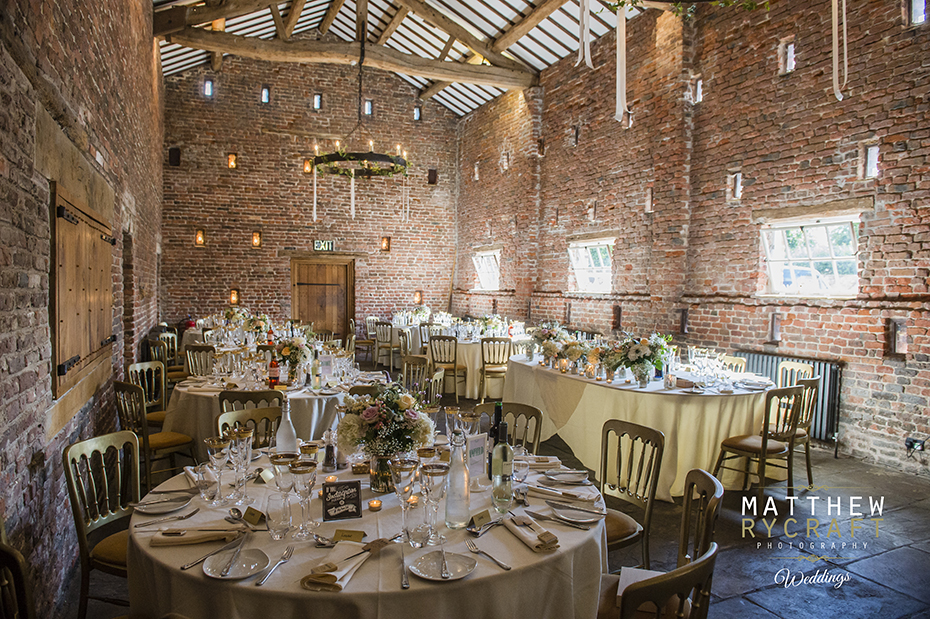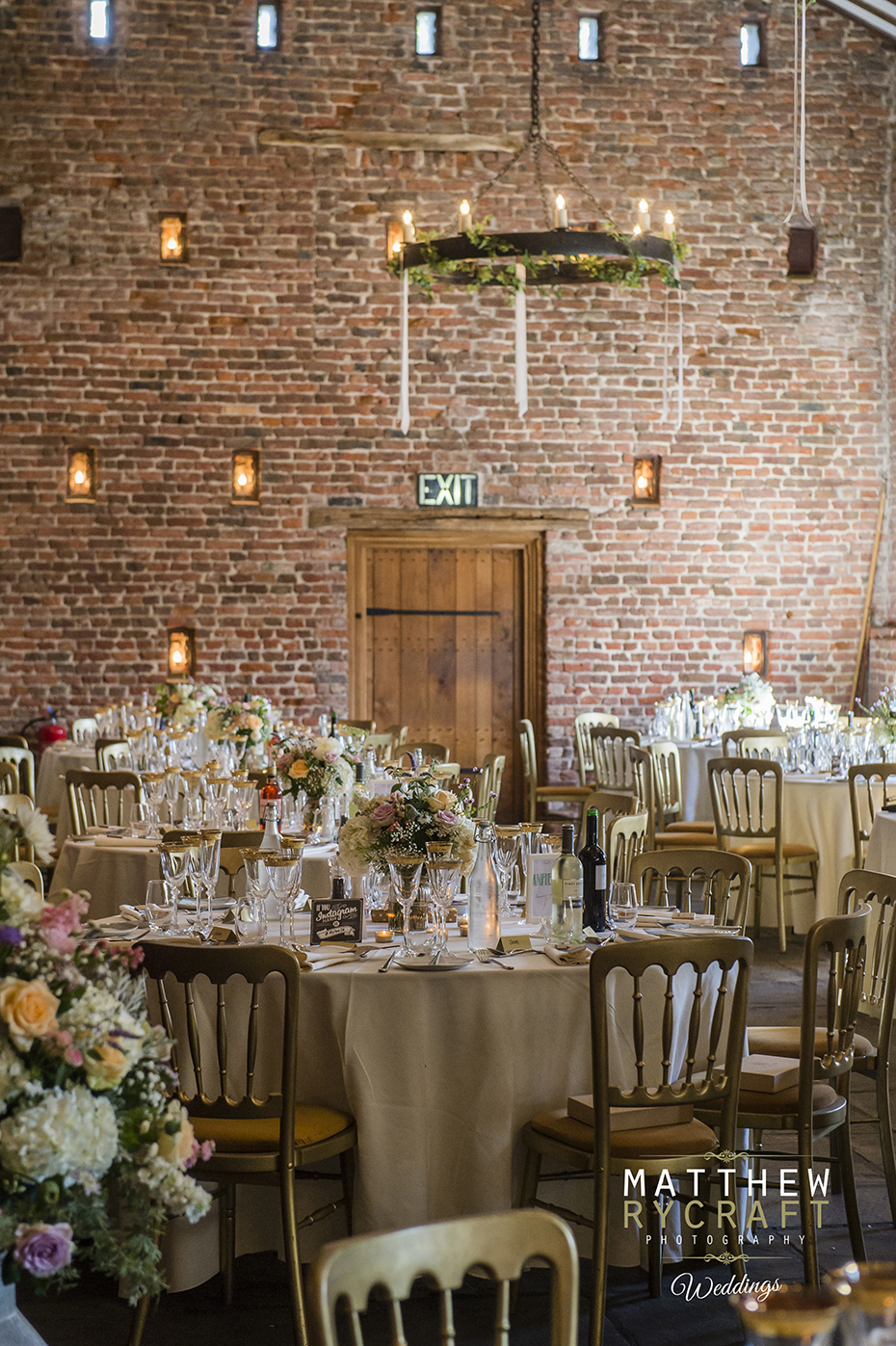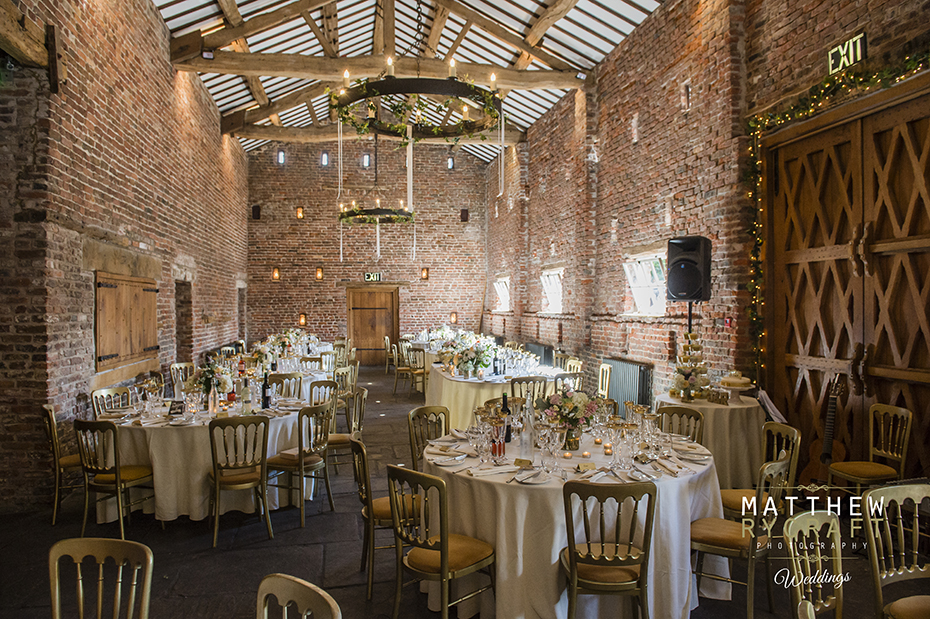 Here's how they felt about my service during their special day…

"We thought you were really professional and provided some much-needed direction when we were short on time. Great fun to work with and it was really nice to see some of the photos on your camera so we understood the effect you were looking for."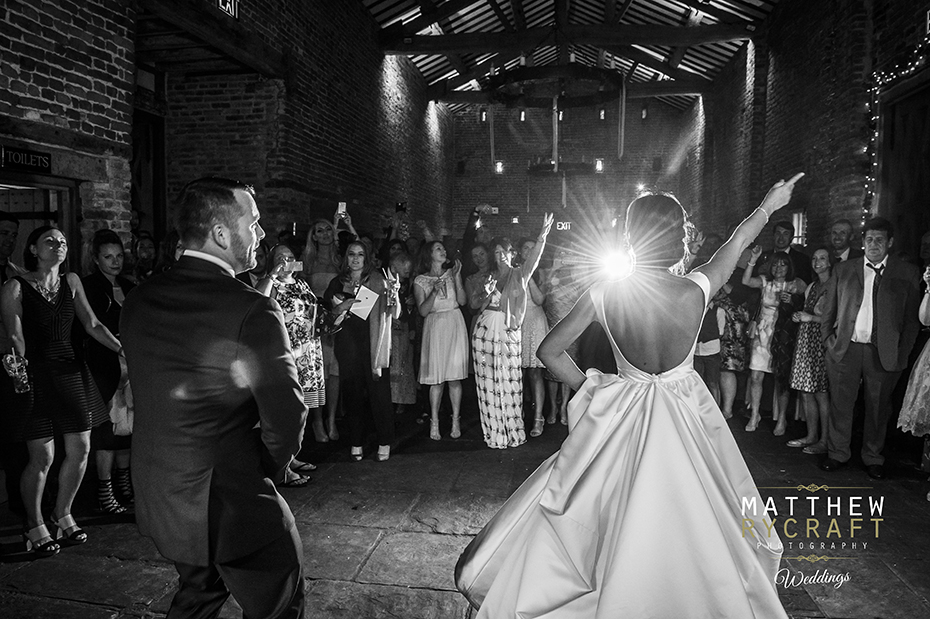 Who helped make their wedding day come together.

The Bride, Jo did a lot of the added details for the tables, such as jam jars decorated with glitter and ribbons. These were filled with flowers from the Flower Farm. She also made the order of the day and welcome sign out of pallets which complimented the display of plants and shrubs provided by Sooty's Plants – which included a beautiful archway in the courtyard. www.sootysplants.co.uk

China Blossom also provided LOVE lights for the dance floor. www.chinablossomhire.co.uk They also had a tuk tuk photo booth – hired from www.photo-crazy.com

Laura's Cupcake created a cup cake tower in a range of flavours and colours which complimented their colour scheme of mint, blush and gold. They were delicious and Project Pretty deigned their wedding stationery.

For their evening wedding entertainment, they had the talented Steve Mitchell as their DJ. When Jo and Robin took to the dance floor, their first dance song was, Jess Glynne, Hold My Hand. Their evening celebrations are one I will remember…. I even captured their 'rockstar' moment which is one of my favourite images.

Carringtons, catered their wedding breakfast, they ate, home cooked style food with three huge pies on each table, followed by a delicious Eton Mess.

They also served their guests with Pimms – a great Summers Day cocktail to get the celebrations started.