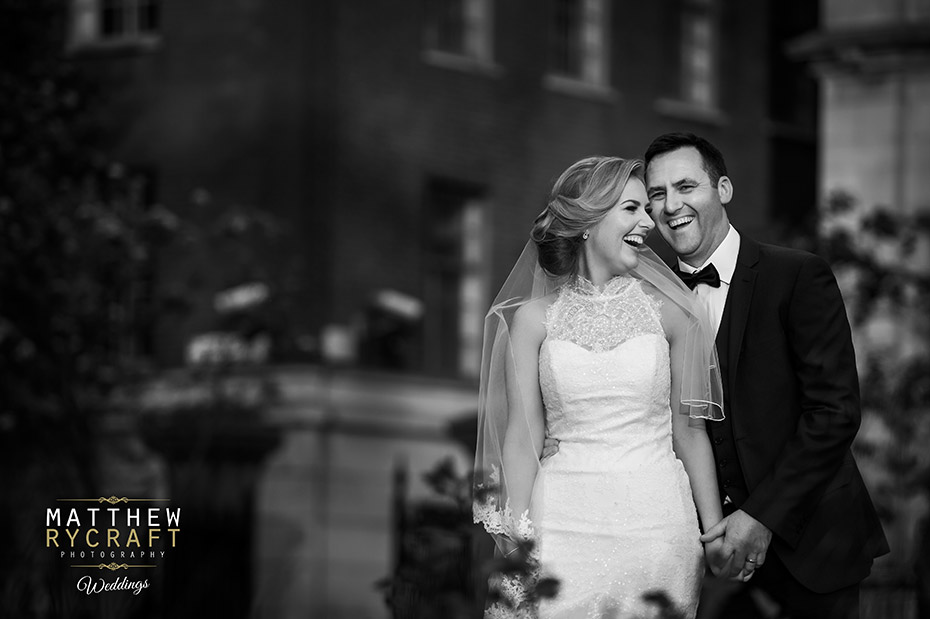 During the morning Helen felt quite calm, but excited and she couldn't wait to see Stephen in his bow tie. As they were getting ready, Helen's mum and Bridesmaids helped, even her littlest Bridesmaid Summer kept her calm.

Helen said, "Although it went by so quickly, getting ready in my mums in the morning, it was so special to have all my girls around me, my mum and my dad and I really did have the best glam squad a girl could wish for."

Stephen got suited and ready with his best men while his Mum ironed his shirt, making sure he looked the part.  Somethings never change!
Wedding Details

Helen's gorgeous wedding dress, from Boutique Brides Crosby. Her inspiration was a Grace Kelly style dress and she looked beautiful. Blush colour Bridesmaids dresses were an Ashley Roberts Line and the mint green bridesmaids dresses, Helen had specially made by a local seamstress. Together they looked stunning.

The groomsmen's suits were from Moss Bros. Their stunning wedding flowers were arranged by Alexandra Florist in Crosby and Helen chose Roses and Fuchsia's, as her mum had these flowers in her wedding bouquet. Taking them to the Racquet Club in style, Heritage Motors provided their wedding day cars, which matched the whole wedding style perfectly.

Their wedding stationery designed by Here Comes the Bride, with Wedding Jam pumping out tunes having everyone on the dance floor by the end of the night. It was perfect.
 
Helen and her mum made all their own table decorations with hand made table favours, wildflower seeds and disposable cameras... just for the kids to enjoy, of course. Dressing the Racquet Club themselves, they collected jars for the past 2 years.

Decorating them with lace, pearls and burlap, making unique candle jars as a main feature on the window ledges, around the room. Along with vintage bunting and a sweet table that was made up of glass bowls that belonged to her grandparents.. what a lovely personal touch.
 

Helens mum made 'dancing shoes' for each guest and her 5 tier wedding cake that tied in with her colour scheme perfectly. And it was delicious.  She also loved the confetti shot as she made the colourful confetti cones herself and for people who didn't want a cone, had bubbles which went down so well with the kids!  Helen honoured their loved ones who sadly weren't with them to celebrate, with memory board.
A perfect and emotional touch.
 
 
 

Special Moments

Stephen said his favourite wedding day moment was seeing Helen walking up the aisle with her Dad, which took his breath away. He remembers thinking.. 'I need to make sure I lift her veil up right'.  Which in fact is one of my favourite shots the wedding. Another favourite, was the journey in the wedding car, "we felt like royalty with everyone beeping and waving at as we passed by."
 
They both said, "The LOVE light letters that were the perfect touch for background photos.

It was so nice to come away from the chaos of the day and to have some 'us' time as the new Mr and Mrs, with the quick shoot we had in the evening with Matthew at St Nicholas Church Gardens. The sunset that night was so beautiful and as Matthew has taught us 'it's all about the right light', the timing was perfect.  I also had my Grace Kelly moment in front of the building that makes me so proud of where I come from – the Liver Buildings."
 

Why they chose the Racquet Club

"We chose the Racquet Club as our wedding venue because it was just so elegant and classy and had so much character. It was exactly what we had dreamt of for our big day. It really is an amazing venue. We have been so impressed with the professionalism and attention to detail from all of the staff at the Racquet Club. Nothing was too much trouble for them. The food, day and night, was the best food I have tasted at a wedding and our guests commented on that too. Perfect venue for the most perfect day."
 
 I also asked them how they found me as a Liverpool Wedding Photographer throughout the day...

"Matthew, thank you so much for the most beautiful and amazing wedding photos. We both loved having you part of our special day. We loved how unique that you were and the different ideas you had for the shots, all of our guests commented on your style and how friendly you are. We both felt like we had known you for years. Thanks for getting so involved with our family and friends – We hope that the squash court picture in the Racquet Club goes down in history."