Paula & Brian's wedding was held at Isla Gladstone Wedding Venue, Liverpool in June 2014. They were thrilled to be chosen to be entered into the Wedding of Year 2014 competition with Your Merseyside Wedding Magazine and have got through to Round 4.
We've been lucky enough to have 2 wedding entered this year with one getting through to the final, see Ali and Shauns winning page article. With Paula and Brian's entry this could see us having 2 out of the 4 in the final! Imagine that, a 50% chance of winning, but most of all to have 2 clients feeling over the moon about getting through to the final of a "Wedding of The Year".
Being chosen for the competition must be a fabulous feeling for the bride and groom, i'be been lucky enough to have at least one wedding chosen every year for the past 3 years!
The Wedding of the Year competition is made up of 4 rounds and the winners of each round win a 2 night luxury break at the Hard Days Night Hotel in Liverpool, then will be automatically entered into the National Wedding of the Year with the Magazine.
Each wedding will be considered by a panel of magazine editors, who will consider all the little details, read their memorable moments of the day and look at their stunning wedding photo's to decide on a winner. If you would like to see Paula and Brians wedding Photographs from the Isla Gladstone, Click HERE
–
–
In honour of meeting on the social networking site, Paula and Brian had a Twitter themed day complete with accent colours of blue and little Twitter birds. "The venue is beautiful and was ideal for our al fresco nuptials" says Paula. "I loved being able to walk down the stairs with our son and see my future husband waiting for me".
Their memorable moment besides saying their vows and dancing the conga line to 'Love Train', Paula says " A white feather fell on to my father-in-laws hand when my late father's favourite song was playing. We were indoors and no feathers were used on the table – it was a surreal moment".
Hearing of the competition entry we spoke with the Isla Gladstone who wanted to see some of the wedding photographs taken at their wedding venue, they were that impressed we were humbled with their request to use them within their new brochure and advertising! Take a look at their full inside front page advert within the local Wedding Magazine.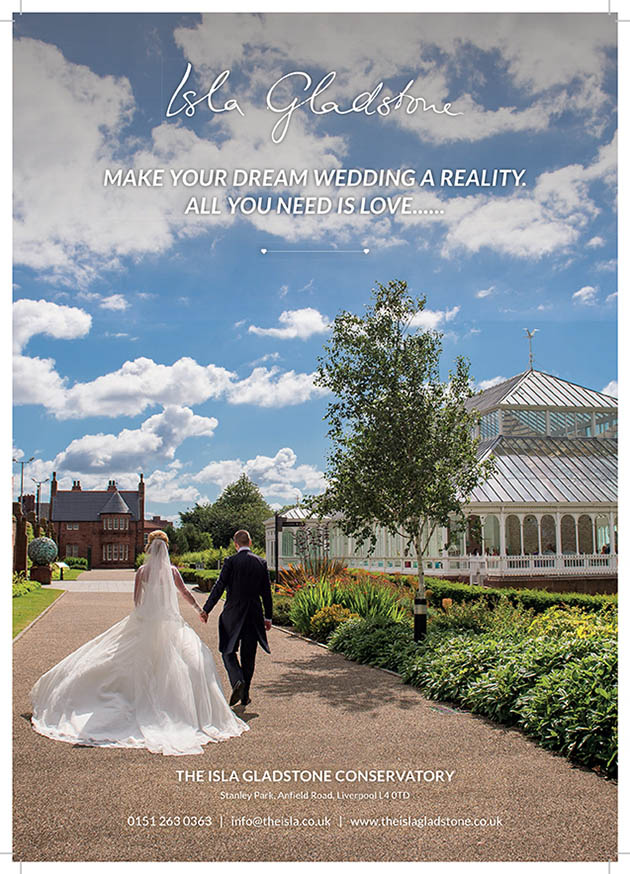 Once again I want to wish Paula and Brian all the best in the competition, fingers crossed!
–