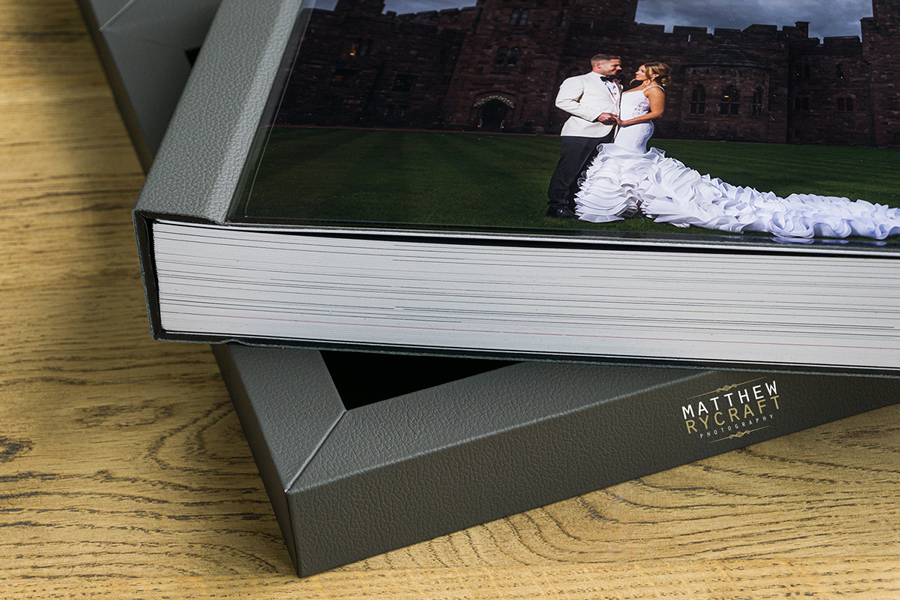 View our fantastic brand new range of Luxury and Bespoke Wedding Albums.

A wedding album is the perfect gift to yourself to remember your fabulous day by. We can completely customise your wedding album from cover choice, to paper type and even what material and colour you would like to have for the binding and back.

We only use Graphistudio Italian handmade wedding albums which ooze opulence and quality. Each wedding album is meticulously checked upon departure from Italy, making sure it absolutely perfect.

Their parent books are a popular addition as presents for parents printed with a hardback cover and back, which makes then ideal for being transported in your handbag.
Our bespoke wedding albums service, designed through a detailed consultation, makes sure your album is not only perfect but a family heirloom for your to hand down for generations.
There's nothing more enjoyable that seeing your amazing wedding photographs printed in the finest materials for you to show off to friends and family.  The enjoyable process of choosing your images and having a hand in the design is a great way to make your wedding last that little but longer after the big day.
We feature products produced by some of the world's most reputable companies.  We have the finest Italian wedding albums by a company with nearly fifty years' experience in the industry, Graphistudio. Who have developed a fantastic collection of Italian Wedding Albums and maintain a tight focus on quality.
With a fabulous range of covers, including our very popular acrylic glass fronts. Any colour leather and even hessian. With the option to add your own names and dates to the cover too.  These can be printed in different sizes allowing you to choose the best fit for your home.
Sizes range from A4 to around A3, but we find our albums sized right in the middle are the perfect size for any sideboard, or coffee table.
Get in touch if you would like more information.