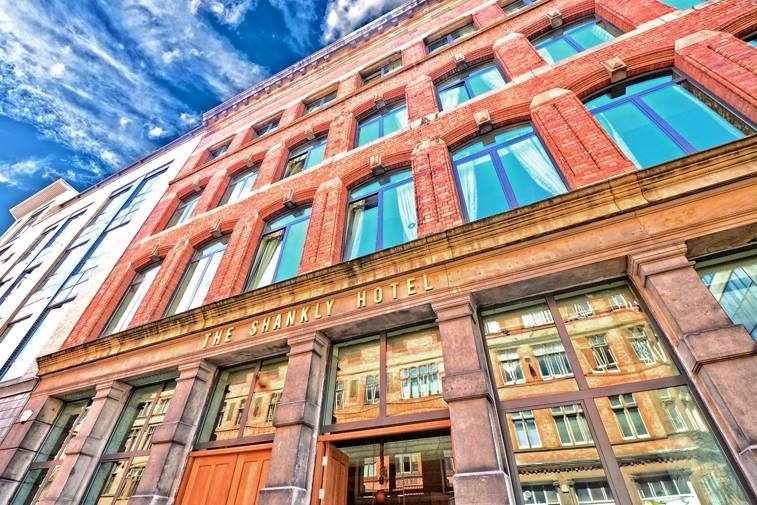 New for 2016 – Liverpool's new and exciting luxury hotel, The Shankly Hotel – Named after one of the greatest football managers – Bill Shankly, offers breath-taking panoramic views from their rooftop garden over the city. Located in the heart of Liverpool and with picture perfect views across Liverpool's most iconic buildings, including the Liver Building, plus the Three Graces and Pier Head. Your wedding photographs will, no doubt be unique and stunning like no other.

It's safe to say that without any representation of the football manager Bill Shankly, in this hotel, there would eb something missing. But quite the contrary. With the Shankly Experience hosts an array of tributes to this very special man, from his original LFC contracts to a letter from Neil Armstrong. Being able to view these in the floors, walls and ceilings, it's really like no other hotel in Liverpool. The Shankly Family have donated many of the items found in the hotel and most concentrated within the "Shankly Museum".

This fabulous new Liverpool wedding venue will provide you with tailor-made wedding packages – that have you in mind, offering a variety of menus and style that help create your dream wedding. Along with their 83 luxury bedrooms that will accommodate your wedding guests – you will be wowed by the sense of style and attention to detail this wedding venue offers.

The Shankly Hotel have an experienced wedding co-ordinator and will be by your side, helping take the stresses out of planning your big day. With floor to ceiling glass windows, the space can accommodate from large weddings upto 500 to the most intimate gatherings. This venue is like no other, with their perfectly groomed gardens, an impressive glass domed roof which is perfect for star gazing and an infinity pool – Your guests will be certainly be impressed.

This is one wedding venue in Liverpool I can's wait to shoot at and is a fabulous addition to the Signature Living and 30 James Street collection.