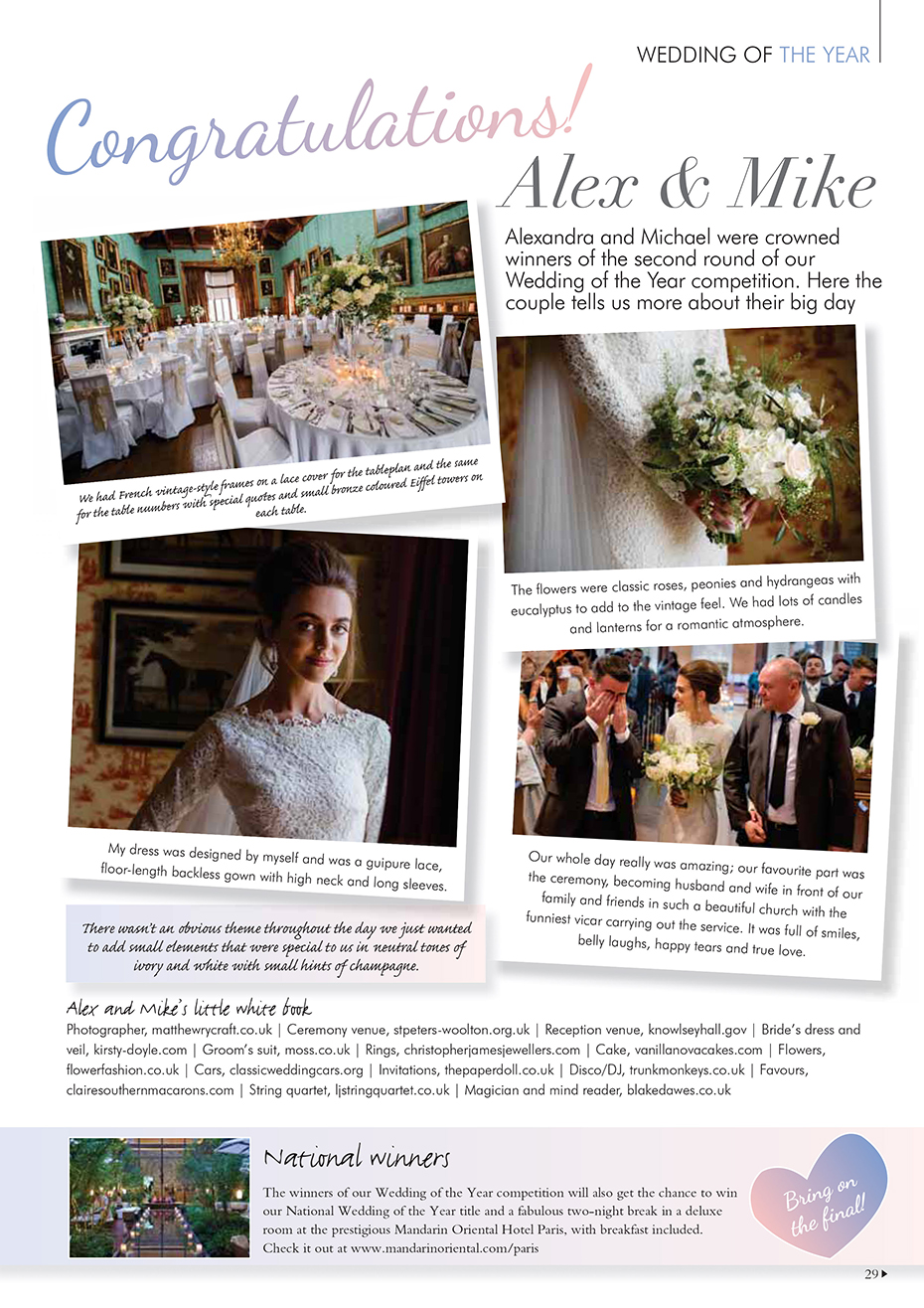 Wedding of the Year

I can't thank everyone enough, in how fantastic I feel that my lovely couple, Alex and Mike have won Round 2 Wedding of the Year in Your Cheshire & Merseyside Wedding Magazine. Just the finals to go!
We've done it! Alexandra Rose Mcnally and Mike Mcnally….are crowned Round 2 Wedding of the Year Winners for their Liverpool wedding at Knowsley Hall wedding
Needless to say, Alex and Mike are over the moon having won. Being their Liverpool wedding photographer was a joy and one I'll cherish, having being held in one of my favourite wedding venues in the North West… Knowsley Hall.
Take a look at their full wedding day story and see their winning wedding article below…..

Tell us a little about the overall look of your big day – your cake, flowers, attire etc.
The overall look of the big day I would say was classical elegance with my vintage style incorporated. I always knew what style I wanted and when we found the perfect venue in Knowsley hall everything came together beautifully. The flowers were filled with classic roses, peonies and hydrangeas with eucalyptus to add to the vintage feel. We had lots of candles and lanterns to add to the atmosphere. The cake was a 5 tier white/ivory cake decorated with intricate lace and iced beading. Michael and the groomsmen were dressed in dark grey tailored suits with Michael wearing the champagne coloured tie to stand out from the others who wore plain black ties.
My bridemaids and flower girls wore plain ivory and white to contrast my lace gown. The bridemaids wore floor length gowns with a swooping cowl neck at the back of the dress and a medium sized flowing train at the bottom. The flower girls wore beautiful tulle dresses with a full skirt and tulle belt and bow at the back. My dress was designed by myself and was a guipure lace floor length backless gown with high neck and long sleeves. The swooping train was perfect to give the dress that extra dramatic feel and my veil was trimmed with the same guipure lace. The traditional classic look of the day turned out exactly how we had pictured it.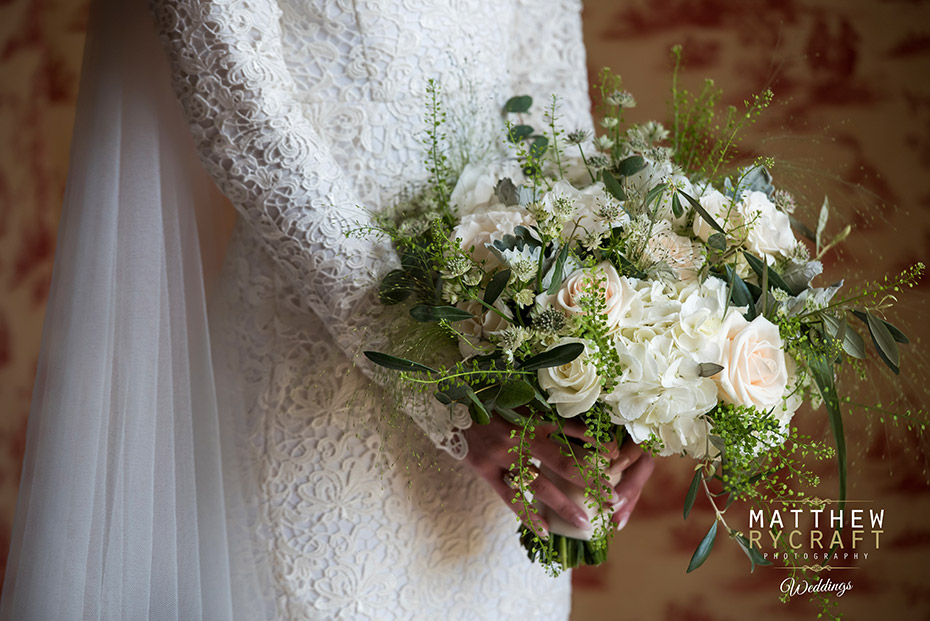 How did you incorporate your theme or colour scheme into your wedding?
There wasn't an obvious theme throughout the day we just wanted to add small elements that were special to us, the colours were very neutral ivorys and whites with small hints of champagne. Michael proposed in Paris under the Eiffel tower on New Year's Eve so our invites had the skyline of Paris with the words "The fairy-tale began in Paris" in the neutral ivory and champagne colours with a small printed lace style card incorporated. We then had French vintage style frames on a lace cover for the table plan and the same frames for the table numbers also small little vintage frames for special quotes to be printed on the same lace card as the invites on each table. We had very small bronze coloured Eiffel towers on each table with lots of candles and there was either a large vase full of the flowers that were in my bouquet or lots of different sized bronze and clear votives and vases huddled together. The back of the chairs had a champagne coloured bow in keeping with the colours.


What was your favourite element and why?
Our whole day really was amazing so it's so hard to choose but we both agree that our favourite part was the ceremony, becoming husband and wife in front of our family and friends in such a beautiful church with the most amazing and funniest vicar carrying out the service. It was full of true smiles, belly laughs, happy tears and true love.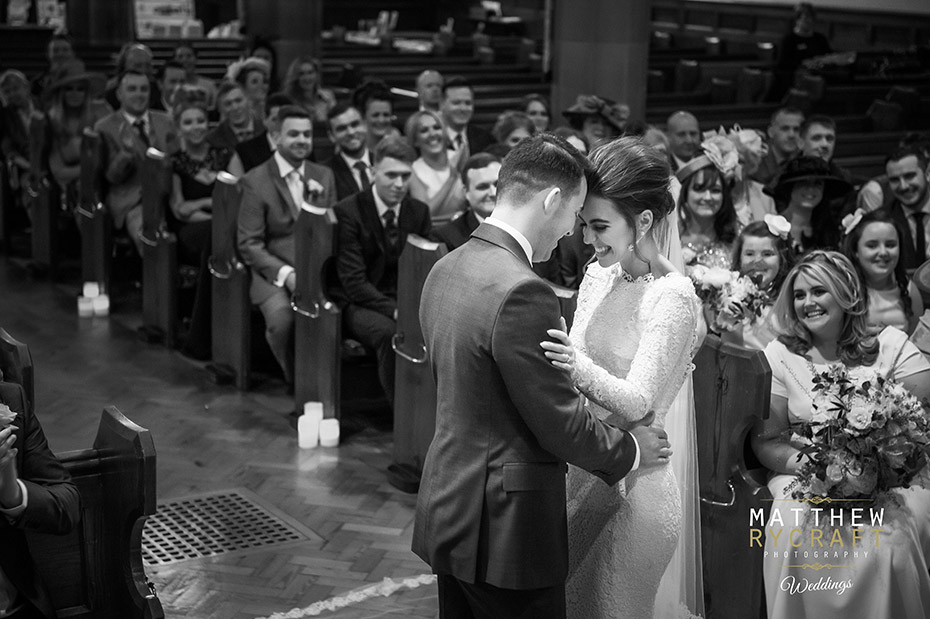 What did you enjoy most about organising your wedding?
We loved creating our wedding day! We worked so hard and had the date booked for almost 3 years so when we were getting closer and closer and things were coming together more and more it was so amazing. After all of the appointments, tastings, fittings, decision making, lists upon lists I think the most enjoyable part is seeing your fairytale coming together.

Were any of your suppliers particularly helpful?
We could not fault any of our suppliers, they really were all truly brilliant. Kirsty Doyle who created the masterpiece that was my wedding dress was a superstar throughout the whole process in creating my dream dress. Kirsty came on the morning of the wedding to dress me in my gown but also helped dress the bridesmaids and flower girls which was a massive help, nothing was too much. Matthew Rycraft our photographer is a true pro! He puts his all in to getting those perfect shots that will stay with you forever, nothing is too much he even ran around the lake to get the most beautiful picture of us with Knowsley hall in the background. Heather from Flower Fashion was also amazing, her creations are works of art and she is such a lovely person to work with she even stayed with me at the church to fluff my dress before walking down the aisle. I could honestly thank and recommend all of our suppliers but I would also like to say how outstanding the staff are at Knowsley hall, that hall speaks for itself but it is the staff who make the day run without a glitch, the staff who cannot do enough for your guests and the staff that give impeccable service.

What was the best bit of advice you received when planning your big day?
The best bit of advice we received was to enjoy every moment of the day possible, to take it all in and to most of all stop for a moment or 2 to be together just us two on the most important day of our lives said, Alexandra Rose Mcnally.