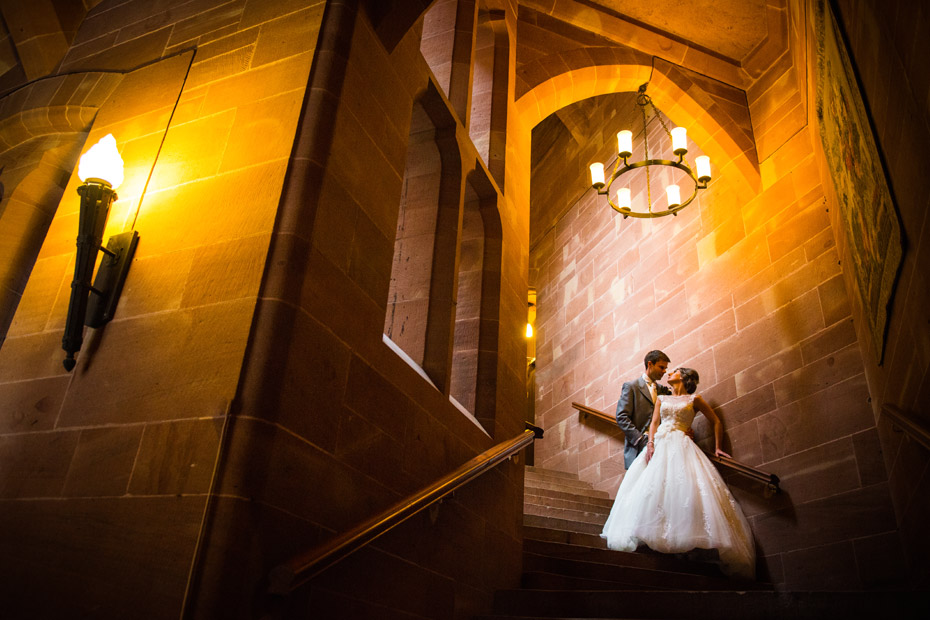 I was thrilled to photograph Liam and Hannah's magical wedding which took place at Peckforton Castle, in Cheshire. Not only did they have a wedding ceremony the Great Hall, but after we headed over to the Chapel for a beautiful blessing.


Peckforton Castle dates back to 1840 when John Tollemache inherited the vast land, which included villages, Peckforton & Beeston. John Tollemache's dream was to build a fortified home with a medieval style and with the magnitude of work, which today is the grand backdrop for many a bride and groom. During WWII Peckforton Castle was used as a hostel for over 200 evacuated children and over the years the castle has been used by producers for movie and TV locations. In 1989 the venue was sold again and became a venue for business, conferences and weddings. With centuries of tradition and an ageless charm, now a family run business by the Naylors.


Hannah was both nervous and excited rolled into one, but with the help of her mum and bridesmaids, getting ready felt more relaxed. With a gorgeous wedding suite to get ready in at the Castle, I took the wedding dress to the Turret next door to get a cool photograph of the wedding dress. After a little time with the girls I headed to Liam, it's great when the lads get ready at the venue too, no time lost in travelling. Liam's best man, Mum and Dad where there and helped calm his nerves too.


With the whole wedding day at Peckforton Castle I really got a chance to see the potential of this fantastic Cheshire Wedding Venue. With the ceremony, wedding meal and evening in the Great Hall, the photographs look incredibly dramatic with the fabulous architecture.


The most memorable part of the day for Hannah was putting on her stunning dress and walking up the aisle. Liam said seeing Hannah walk up the aisle in her dress was something that took his breath away. From the moment of waking up in the morning and getting ready to the first dance, Liam & Hannah felt the whole day was amazing.


Hannah chose her gorgeous wedding dress from Corniche in Liverpool. Liam's wedding suits from The Wedding House, as well as Hannah's Tiaras. Anita Naughton florist arranged the stunning flowers and table decorations, with the help of her parents.