We're in Round 1 Wedding of the Year 2017
Wedding of Year 2017 in Your Cheshire and Merseyside Wedding Magazine, is underway and we have our newly weds entered in Round One.

After winning the title for the past 2 years, I am pleased to announce that my lovely couple Laura and Andy Loughrey have been entered into Round One for this years title, Wedding of the Year 2017.

They said their 'I Do's' on 24th March 2017, at St Paul's Church, West Derby and onwards to celebrate at the beautiful 30 James Street, Liverpool. Their day was amazing and I loved capturing their most memorable moments.

Let's get them to the finals and VOTE for Laura and Andy. Entries close 2nd June 2017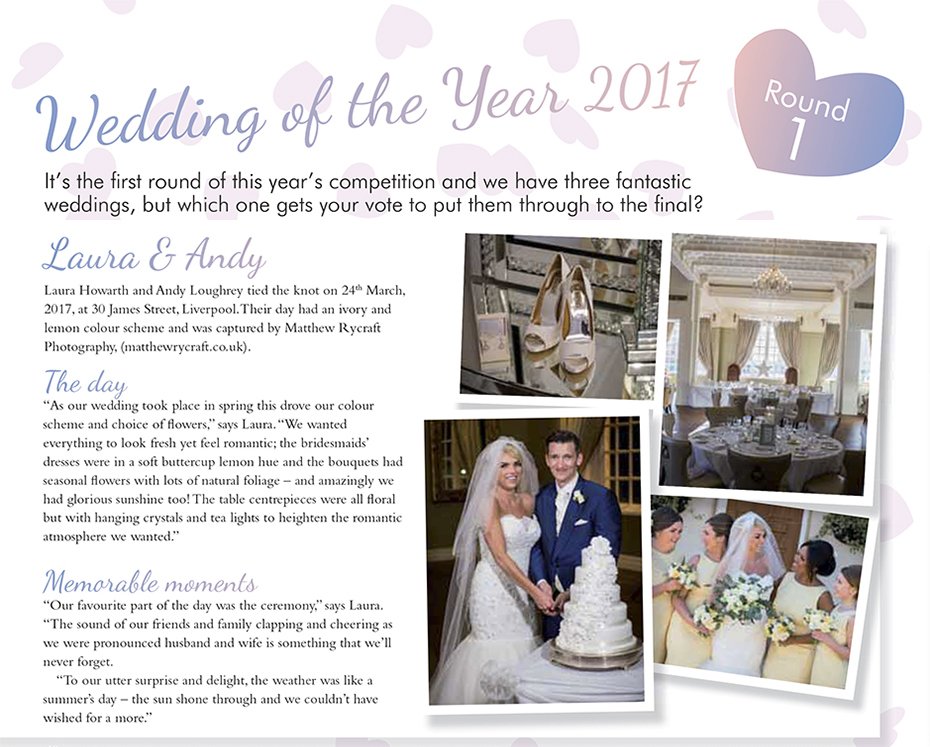 Take a look at their wedding story featured in this months magazine…

Did you have a theme? If so, why did you choose this theme? The fact that the wedding was taking place in Spring drove our colour scheme and choice of flowers. We wanted everything to look and feel very fresh but romantic. The bridesmaids were dressed in a soft buttercup lemon and the bouquets had seasonal flowers with lots of natural foliages to keep them looking soft and spring like. The table centrepieces were all floral but with hanging crystals and tea lights to keep the romantic feel to the venue.

What is your favourite memory of the day? Our favourite part of the day was the Wedding ceremony itself. The sound of our friends and family clapping and cheering as were pronounced husband and wife is something that We will never forget.

Were there any pleasant surprises? A lot of people had tried to put us off getting married in spring and had told us stories of snow storms and terrible rain in march weddings that they had been to in the past. We did not change our date though as it was the 10 year anniversary of our engagement. To our utter surprise and delight the day of our wedding was like a summers day and was actually the hottest day of the year so far. The sun shone the whole day through, we couldn't have wished for a more perfect day

Why did you choose the venue that you chose? We had stayed at 30 James street a number of times and had enjoyed nights out at the beautiful carpathia champagne bar and we knew it was a perfect venue for the two of us. The beautifully decorated rooms along with the buildings iconic place in Liverpool history made it the perfect venue for our wedding.

Any special details/personal touches? We had hired a band for the evening entertainment and they learned and performed our first dance song, Ed Sheeran's Tenerife Sea.
All of the stationery was hand made by Laura and this included tags on our wedding favours. Each of our female guests were given a pair of white flip flops in an organza bag with the message 'when your feet are tired and sore kick off your heels and dance some more' we gave these out as our favours as we wanted our evening reception to be a night filled with dancing and celebration.