We're in another Round for Wedding of the Year!!

Needless to say… I'm over the moon to have made it to Round 3 for Wedding of the Year with Your Merseyside & Cheshire Wedding Magazine. The beautiful couple, Kirstie and Michael McAllister have been entered for Wedding of Year.


Their wedding day was perfect and their stunning reception was held at the prestigious Knowsley Hall. Their day was full of romance and laughter and a fairytale wedding dream come true for them both. I had the absolute pleasure in being their Knowsley Hall wedding photographer in March 2016. Take a look a their wedding day story and which wedding suppliers they used to make their day special.

Read Kirstie & Mike's Magazine Story:
Kirstie Holmes married Michael McAllister, on 5th March, 2016, at Our Lady Immaculate & St Joseph, Prescot, followed by a reception at Knowsley Hall. Their day followed a turquoise colour palette.

Their day
"The fairytale theme came together from ideas that I'd had as a child," says Kirstie. "We had the traditional big white church wedding, with horse and carriage, and the cherry on the cake was definitely the beautiful grounds of Knowsley Hall."

Memorable moments
"My favourite memory of the day was the moment I stepped into my wedding dress and my mum fastened it up for me," says Kirstie. "It was a year of planning finally coming together in this one moment, a moment I'd always dreamed of. "The biggest surprise of the night was during our first dance when our three-year-old daughter had learnt all the words and stood there singing along next to us. I think all the guests were watching her instead of us!"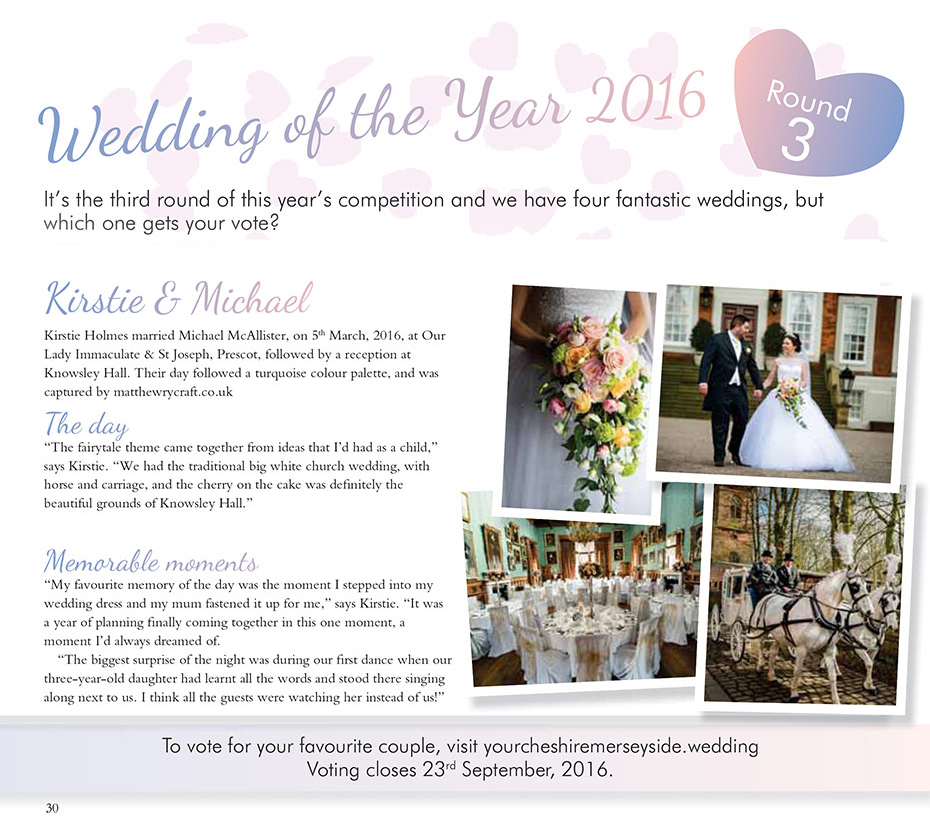 Your Votes count….
We need your help in voting, for this amazing couple to win this round of the competition and be entered into the finals.


Click here to Vote for Kirstie and Michael – HURRY – voting closes 23rd September 2016.