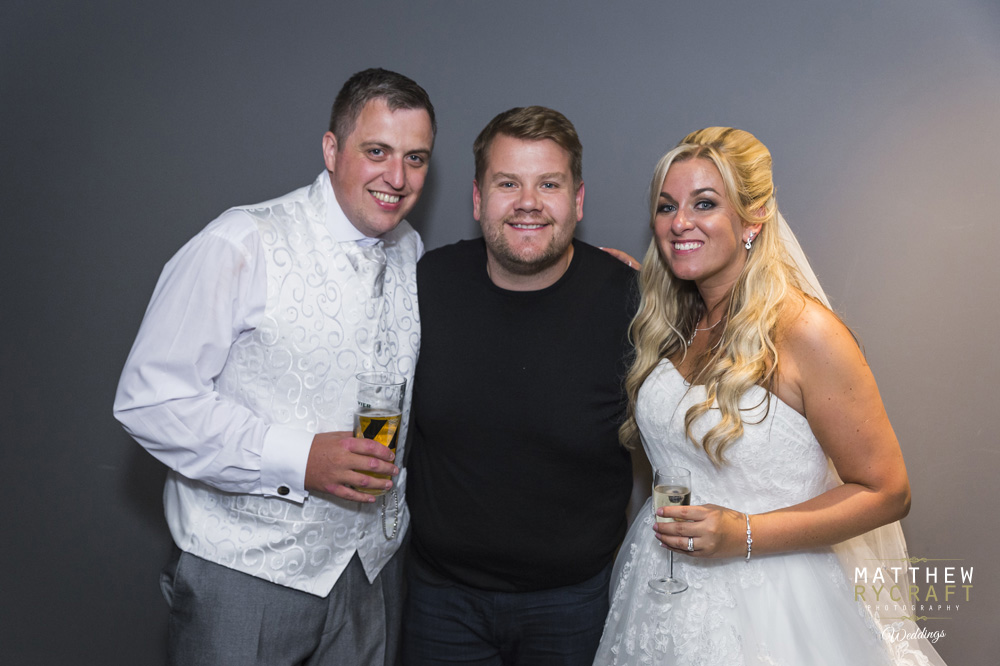 How their Magical day started

With Lindsey's bridesmaids and mum, on hand to help her get ready for the day ahead, Lindsey was quite calm and relaxed. Along with her future mother in law, aunties, cousins and kids, Lindsey enjoyed every minute of getting pampered. Her special moment of the morning she said, was coming down in her Bridal dress with all her family seeing her for the first time. It was a magical moment, one she'll always cherish.

Andy's entourage included his Dad, his brother, who had the honour of being his best man, cousins and the brides cousins. They kept Andy calm, cool and collected, with Andy looking very dapper in his wedding suit, ready for the day ahead, to say his I Do's, to his bride.

Lindsey arrived in style, in a stunning Badsworth & Bramwith Limousine. Their ceremony took place at St Nick's, followed by a BBQ reception at The Titanic with a Liverpool Skyline theme.
A Celebrity guest
What made their day unique and not many can say, they had a surprise celebrity guest at their wedding. Mr James Corden appeared from across the foyer. So I took my chance to ask if he would take a photo with the Bride and Groom. He was more than happy to oblige and we even got a cheeky selfie. James stayed at the Titanic Hotel during filming of Carpool Karaoke with Sir Paul McCartney, taking in the sights of Liverpool and famous Beatles locations.
Their most memorable part of their day
They both said, Walking down the aisle and the service was amazing. Also little Maisie running to join them during their first dance (song: Bon Jovi, Thank you for loving me), just before the confetti cannons went off (wasn't planned) and of course, meeting James Cordon.
I asked them how they felt about their venues overall service, they replied:
"Unbelievable. Church was beautiful and set our theme being surrounded by iconic buildings of Liverpool. Titanic Hotel / Rum Warehouse, everything we imagined, fantastic staff 5* food and service over both days us and our guests were there. Aurora was amazing from the very first time we met till after the wedding. We would love to keep in touch with her."
"We Would recommend it 100%. The view from the room, service from the staff, hotel rooms. Really makes your day the best day ever."