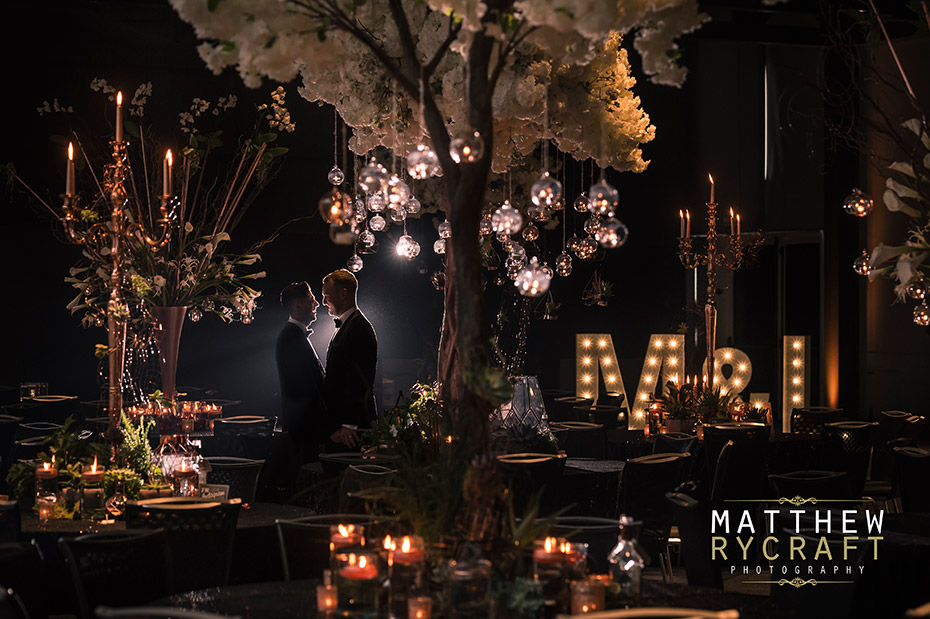 Liverpool's Titanic Wedding Celebrations
On 24th June, the handsome Grooms, Lee and Michael's big day had finally arrived. After all their preparations, attention to detail, their day was amazing. With a Black Tie dress code and an industrial theme, their stylish wedding day was amazing at the Titanic Hotel, Rum Warehouse in Liverpool.

Michael & lee have also been chosen for round 3 of
Wedding of The Year 2017, click to read all about it and VOTE

During the morning preparations

They were both pretty relaxed, although Lee said it was the week before that he was a nervous wreck. Michael felt the same as the build up of planning their wedding these past 2 years and now their day and finally arrived. Lee had his Best Man and Groomsmen, helping him get ready and Michael's with his Groomsmaids, his new mother-in-law and Lee's Nan on hand too. As apparently she's not one to miss out on all the excitement.

Following multiple recommendations, they had Jenni Hair create a unique look for each bridesmaid and nothing seemed too much trouble. She was fun and made the girls feel fabulous. Even taking it one step further with a custom made headpiece for each flower girl. Lisa Kirwan was on hand for make up, tailoring each look to fit the theme.

Once Michael & Lee were ready, we took the opportunity to have a on wedding day, pre-shoot, as their ceremony wasn't until 3pm. Same sex marriages are somewhat less traditional in some areas, so it's very common for the couples to see each other before their ceremony. This helped make more time for greeting guests later on and was the perfect decision.

Their most memorable moments

During the Day…. Lee said "Turning the corner at the end of the rum warehouse to see our bridesmaids, groomsmen, flower girls and page boys lined up and waiting for us was pretty special!
We could see all of our friends and family turning to see us through the tall glass windows by the grand Titanic staircase and also hear the applause and cheers. Michael got a little choked up here as it had all come down to this moment. Luckily he managed to compose himself and didn't run in the other direction!"

During the Evening …. "One was probably having Rob from the Robert Mather Band on the dance floor with all our guests doing the most energetic version of 'Proud Mary' we've ever seen! There was also one moment where I took a step back to chat to a friend and looked back to see a full dancefloor with our nearest and dearest all having a ball."

"We both had a friend perform a song which meant a lot to us for various reasons. Alex (bridesmaid) performed an acoustic version of 'Twist and Shout' for Lee and Carlo (Best Man) performed 'Purple Rain' with the band for Michael. We both loved the spontaneous chanting of 'Kim' (Lee's mum) during the speeches. She isn't one for the limelight but she is a huge part of both of our lives and is a very special woman!"

How they felt about my services as their Wedding Photographer

"Matthew, Matt the videographer and Emma were an absolute delight to spend our wedding day with. They all made us feel at ease, were great fun and from the sneak previews of the photos we've seen, we couldn't have asked for anything more from them."

Why they would recommend their wedding venue, The Titanic Hotel for every wedding celebration..

"Again, we couldn't have asked for anything more from the venue. From the minute we first stepped inside, we knew that the Titanic was going to be our wedding venue. The team there were amazing from start to finish. We've never been to a hotel where every single member of staff were so friendly, helpful and professional, from concierge to cleaning staff to serving staff.
Alexandra (the wedding coordinator) and David (the Rum Warehouse Manager) deserve a special mention- they could not have been any more professional and helpful! They're damn good at their jobs!"

Here, in their own words is why they chose their wedding suppliers

Grooms Suits – Hugo Boss
"Our suits were both from Hugo Boss. We had always talked about having a black tie wedding and the suits were perfect for that, with black velvet jackets. We spotted them a while back, argued about who was going to wear it, and ended up deciding that we would both wear the same! I had my tailoring done by Harland-Collier, just so that it would be the perfect fit."
Groomsmaids Dresses – Liverpool Bridal Boutique
"We chose the bridesmaids dresses from Liverpool Bridal Boutique. I always had a vision of the type of dresses I wanted them to wear. Full floor length sequins. This was a big ask and I toyed between Rose Gold or Platinum Silver. As soon as the girls had their fittings I knew they had to be the latter. We went for two different styles to compliment each girl and they turned out to be absolutely perfect. They were glamorous and went perfectly with our black tie theme."
Flower Girls Dresses – Kirsty Doyle
"The flower girls dresses were put together by Michael from a few pieces from Kirsty Doyle. Rose Gold sequin tops, tulle skirts and custom made bow sashes. Everything was in the details. Kirsty really delivered and the girls felt like princesses."
Wedding Florist – Red Floral
"We had Red Floral Architecture for this. After seeing some of their work on Instagram and Facebook, there was no way we could have chosen anyone else. We had an industrial theme with copper colours and succulents. The button holes and bridesmaids flowers were spectacular!"
Wedding Table Decorations
"Again, this was taken care of by Red Floral Architecture who continued the theme. The huge tree in the center of the room was immense, our friends haven't stopped commenting about how incredible the room looked. Mat and his team are geniuses!"
Wedding Cake – Homemade
"Our cake was made by a close family friend, Kathy. We were honoured that she asked us to do our cake and it was really special. We went for a four tear, semi naked cake with succulent details. We had carrot cake, fruit cake, lemon drizzle and a gluten free victoria sponge."
Wedding Entertainment Band – The Robert Mather Band"Wow! We can't praise these guys enough. The vocals and musical performances were special. They really did get everyone up, and keep everyone up, on the dance floor."
DJ & Lighting – Hipswing
"Jay (D-Jay) was a top bloke! A great selection of music was played throughout the night. We had warm white uplighters throughout the warehouse which set the place off brilliantly."
Gospel Choir – CK Gospel Choir
"These guys travelled up from London and performed during our ceremony. They even learnt a favourite song of ours, 'Somebody to Love' by Queen, as our grand entrance song."
String Quartet – Leos Strings
"Rachel and the rest of the quartet played some stunning songs during our drinks reception and into the wedding breakfast. We couldn't have asked for anything better musically!"
Wedding Letter Lights – The Letter Light Company
"A very close friend Victoria supplied our letter lights. After months of trying to decide what letters to have, she took control and told us which would be best used in the space. They are some of the best quality I have seen and they look amazing in the warehouse. They were a talking point and we could not stop everyone from taking pictures around them."