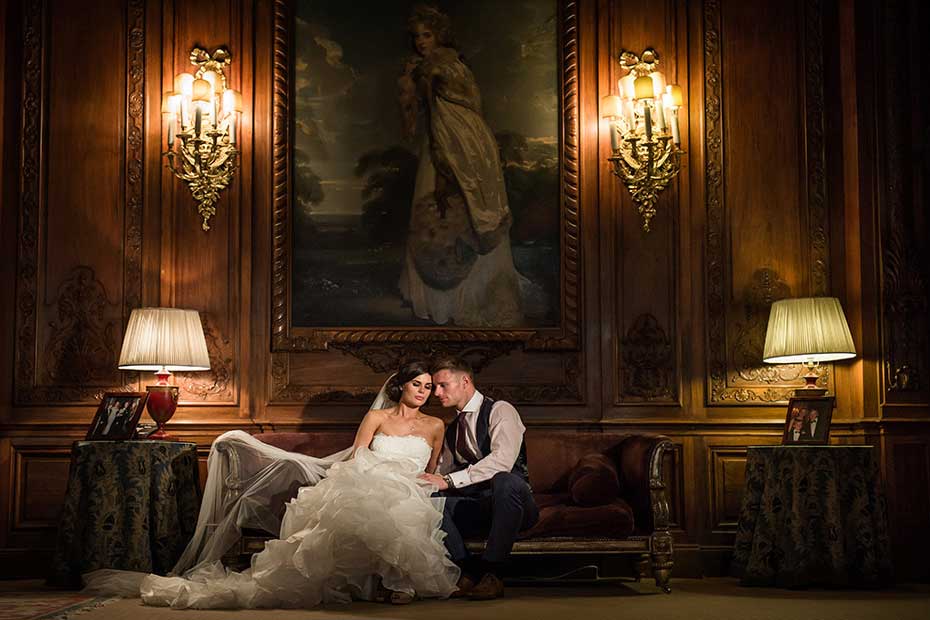 Knowsley Hall Wedding

Michelle and Ian got married at the stunning Knowsley Hall, Merseyside's only stately home and remains a hidden treasure. Edward Stanley, who inherited the 19th Earl of Derby title following the death of his uncle. Inherited Knowsley Hall Estate and Knowsley Hall Safari Park. Lady Derby restored the Liverpool Wedding Venue to it's natural beauty. Becoming a stunning wedding venue for private and exclusive fine dining events including weddings.
Their Wedding Day

As the wedding day began… Michelle was with her Bridesmaids, Mum and Nan, Aunty, Sister and her good friend Cara. Having a Champagne Wedding survival hamper made up for her Bridesmaids as they got ready with her was a really nice touch. Although very emotional, Michelle received a gift from Ian… a beautiful necklace from Boodles with an 'M' pendant. Whilst Michelle had sent the most amazing Rolex watch as a gift to Ian, he was overwhelmed.

Even the little touches throughout the day were magical, with Ian having his shirt cuffs embroidered with their wedding date. With his suit from Gieves & Hawkes. A great idea was having a picture frame on the entrance to the ceremony room. Which said 'As two families become one, pick a seat not a side'.
The Wedding Ceremony

Walking down the grand stairs to the ceremony with her Dad by her side. She saw Ian standing waiting for her and looking amazing and the ceremony began. Ian's Dad did a beautiful reading and there wasn't a dry eye in the room. Which when it came to saying their vows to each other, they struggled to hold back their emotions.

Guests where treated to a Sneak Peak of their Pre-Wedding photographs. With a Signature picture frame encasing a photograph from their Pre-Shoot for guests to sign. This is a great idea and lovely way of creating the most memorable keepsake of your wedding day.
The Wedding Breakfast

After the wedding breakfast and speeches we got some gorgeous wedding photographs in the grounds of Knowlsey Hall. Having their guests throw confetti over the newly weds was a stunning moment. By also using my wedding videographer we had these moments captured the most gorgeous cinematic way.

With their I & M initials set beside their wedding cake. Which was made by her cousin – and table quotes ' Limitless' 'Love you Always, Love you still, Always have, Always will' it was a love fairytale coming true. The wedding breakfast room dress in cream ivory with little gold gift bags as favour's, with handwritten tags saying 'Eat Me'.


Why Knowsley Hall
Michelle has always had her heart set on a having a Knowsley Hall Wedding. Choosing her Knowsley Hall wedding photographer was the second most important thing for her to secure. I can't thank Michelle and Ian's enough for choosing me to be part of their day, it's always been one of my favourite wedding venues in Merseyside.

The day ended with the most beautiful sunset with Michele and Ian having a dance by the entrance of Knowsley Hall. If you would like to see more Knowsley Hall wedding photography, click on the link.
I'm a recommended Knowsley Hall Wedding Photographer. So please get in touch to see our wedding albums.